As we're getting ready to unveil Spin Rewriter 12 on October 6th, we're also working on things that we know are going to make our fellow developers happy. 🤓
As you know, Spin Rewriter comes with a really powerful API. What this means is, it's extremely easy for developers to integrate the power of Spin Rewriter's ENL Semantic Spinning technology directly into 3rd party software products.
These integrations are an absolute breeze because we offer working code samples in a number of popular programming languages: PHP, Python, JavaScript and C#.
And it's not just about our working code samples — we also offer entire libraries that already contain 99% of the code you need to write to get your own Spin Rewriter API integration up and running.
So — this brings me to today's good news! 🤩
We've just updated our PHP SDK library (as well as our collection of working PHP code samples) to make it even easier for developers to integrate Spin Rewriter into their own products.
Feel free to check it out now — the updated PHP library is already live on the website — as we can't wait to see what you create with the power of our API! 💪
🥳 Today it's time to celebrate — Spin Rewriter just turned 10 years old! 🥳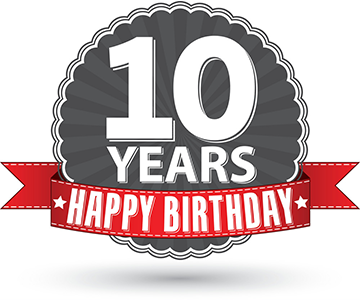 10 years! I genuinely cannot believe it's been 10 years since we launched the first version of Spin Rewriter all the way back on September 14th, 2011.
Well... "we" launched. Of course at the time we were a pretty small team. It was me, myself and I. 😆
Looking back, 2011 was a truly magical time. I genuinely had a blast creating that first version of Spin Rewriter — and to tell you the truth, I couldn't have imagined what lay ahead even in my wildest dreams.
The first response to Spin Rewriter on that September 14th, 2011 launch day was absolutely incredible and let me know I was onto something — but everything that's happened since those humble beginnings has truly surpassed all of our wildest expectations.
🤯
Over these wonderful past 10 years, our team has grown and grown. We've kept innovating and working really hard for 10 years to be where we are today — and our 181,000+ users have rewarded us by loving Spin Rewriter, sending us incredible feedback and getting amazing SEO results with it.
And right now, as I'm writing this blog post, I genuinely couldn't be more excited about what the future holds for Spin Rewriter. It's going to get really exciting really fast, too — as we'll be launching version 12 on October 6th!
So here's to Spin Rewriter: Happy 10th Birthday! 🎂
And to all of our incredible customers:
We're doing all of this for YOU — because you guys are the BEST! 🍻
It's time for another BIG announcement:
🎉 Spin Rewriter 12 goes live on October 6th — just a month from today! 🎉
...and here's what we've got planned for version 12:
We've worked crazy hard on another big leap forward in ENL Semantic Spinning technology, especially in regards to spinning (multi-word) phrases... and we couldn't be happier with how it turned out! 🤩
We've performed a manual review of our synonym database (with over 650 hours invested) to further refine the synonym suggestions our algorithm is making for words, phrases, sentence order changes, paraphrasing, etc.
We've further improved the user experience (UX) as a result of extensive in-person user testing that our UX team has been focusing on this year.
We've improved our famous on-boarding process that guides our newest users by the hand, all the way to their first finished high-quality spun article.
We'll be rolling out a revamped collection of tutorial videos that explain every last feature of Spin Rewriter and turn our users into certified content-generating ninjas.
We've made our integration with outside (3rd party) royalty-free media providers even more seamless.
And we'll be rolling out two more secret features that are GAME-CHANGERS when it comes to high-quality, unique content.
Bottom line: Spin Rewriter version 12 launch is shaping up to be an insanely exciting launch for all our users. 👏
And of course — If you are interested in promoting the upcoming Spin Rewriter 12 launch, our JV page is ready and waiting for you right here...
We're counting down the days until Spin Rewriter version 12 goes live on October 6th... precisely one month to go. ⏳
There are some truly exciting times ahead! 😎
For more posts, check out the Monthly Archives.
Why are we publishing all these updates?
Our blog posts let our users stay up-to-date with all of the updates here at Spin Rewriter. This way you can discover all of the latest features — so you can try them out and tell us what you think.
We really appreciate all of your feedback — thank you!