You're probably already familiar with the official Spin Rewriter WordPress Plugin. I'm talking about our WordPress plugin that lets our users keep all of their websites full of unique, high-quality, relevant content at all times — without putting in any manual effort.
Good news: We've just released an updated version (v12.2.0) of the plugin. ✅
In this latest version, we're delivering two big updates:
Update #1: Improved compatibility with the WordPress Block Editor (i.e. "Gutenberg editor"). When spinning existing blog posts with Spin Rewriter right inside your WordPress admin panel, your freshly spun blog posts will now keep all of their formatting exactly as you want it. Your paragraph structure, bold fonts, italics, images, etc. will all be preserved in terms of formatting. At the same time, all of the text will be processed by our ENL Semantic Spinning technology and rewritten in a completely unique, yet perfectly readable way. 🤩
Update #2: Better caching system for static files that are part of our WordPress plugin. In other words, all required JavaScript and CSS code will be automatically reloaded whenever you install a new version of our WordPress plugin. This means no more annoying caching issues, no more having to clear your browser cache, and so on. With each new update, everything will just work. 👌
Pretty sweet, right?
In order to update your installation of the Spin Rewriter WordPress Plugin to the latest version, simply log into your WordPress Admin Panel, then go to Plugins, find the Spin Rewriter plugin and click the "Check for updates" link next to it. This will give you the option to easily update to the latest version v12.2.0 with a click.
Enjoy!
I'm sure you've run into the following issue before:
You're writing or editing an article in a text editor like Notepad. You do a great job. Then you go to copy-and-paste your article somewhere else and the line endings get all messed up. 😖
Suddenly some of your
sentences contain unwanted line-breaks in the
middle. This can
happen when copying articles from a text editor
that is using incorrect word-wrap settings. Instead of line-breaks
at the end of
paragraphs, we end
up with unwanted line-breaks in the middle of sentences.
⬆️ This is the issue we're talking about.
And it's super annoying.
🤩 Luckily Spin Rewriter can now auto-DETECT and auto-CORRECT these types of issues!
When Spin Rewriter detects that you've entered an article (in Step 1) that has this sort of line ending issues, it will instantly offer to fix the issue for you, like this: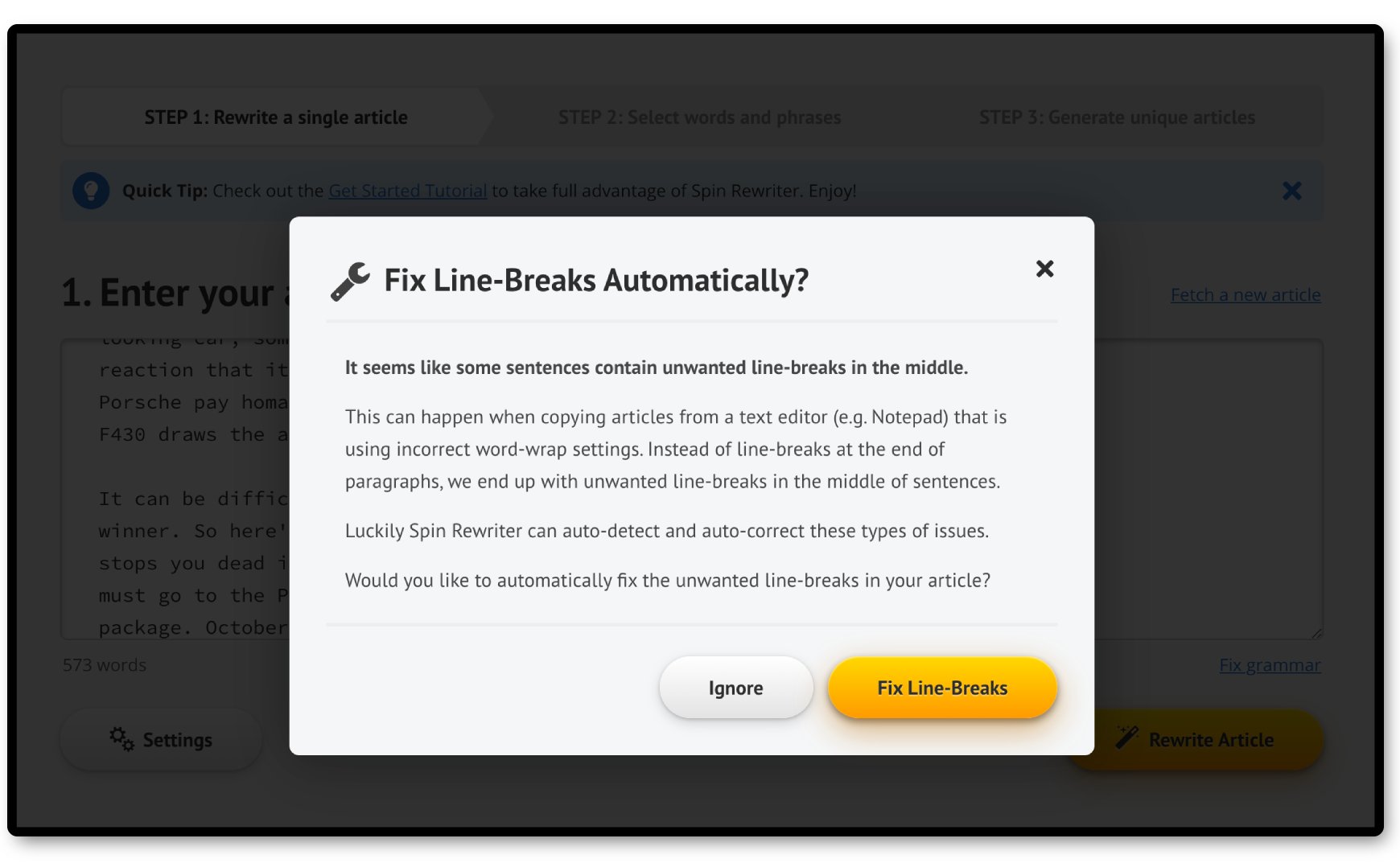 Simply click "Fix Line-Breaks" and you're done.
Pretty cool, right? 😃 Go check it out now!
I already wrote about a cool quality-of-life upgrade to your Archive about two weeks ago, but — as always — we're not stopping there.
We have just rolled out another update that now lets our users SORT articles inside the Archive by either article title or by article time.
As an additional UX goodie, we've made sure that when you want your articles sorted by title, the default order is "ascending", meaning you will see your articles ordered alphabetically.
And when you want your articles sorted by time, the default order will be "descending", meaning you will see your most recent articles at the top of the list.
These are just sensible defaults that make our users' lives easier. Little tweaks where we put in the extra thought required to make things work in an intuitive way.
When you're sorting your Archive by article title, of course it makes sense to expect your articles to be ordered alphabetically — and when you click on the time column, you most likely want to see your most recent articles first.
Now, of course it's also extremely easy to reverse the sort order if you need that, too. Simply click the name of the column again. Goes without saying. 😃
Enjoy the update — it's already live inside your account.
This morning we rolled out an update that's going to make the lives of our power-users even easier. Let me tell you all about it. 😎
Most of our users — at least those that have been using Spin Rewriter for a while — have hundreds upon hundreds of articles in their Archive, often neatly organized into dozens of custom categories.
And once our users are dealing with hundreds or even thousands of articles, the features and UX design inside the Archive become quite important!
Up until this point, if a user navigated into one of their custom categories and then clicked through to Page 7 (for example), and then deleted multiple articles from that page with a single bulk operation, the articles got deleted successfully — but after the deletion process, the user lost their exact place inside their Archive and was clumsily returned to the first page of their Archive. Which can be... frustrating. 😬
Well — no more! 😃 We have now taken care of this UX glitch!
No matter which changes you make inside your Archive (e.g. delete multiple articles, assign a collection of articles to a different category, etc.), you will always keep your exact place after the operation. This way navigation remains intuitive — which means it's much easier to keep your Archive neat and tidy at all times.
Go check it out — I think you're going to like it! 👍
You know what... I'm actually not the biggest fan of the word "automagical", to tell you the truth. 😃
But still, what we've rolled out with a recent update does feel quite... magical. And it's also a fully automated feature. So, what choice do I have, really? 🙈
You see, with this latest update we've added a new feature to Step 3 of the article spinning process where Spin Rewriter will automatically analyze the key topics ("themes") of your generated unique articles in real-time.
Then Spin Rewriter will use this topical knowledge to (again, automatically) suggest relevant images and videos that you can effortlessly include into your generated unique articles. 🪄
You'll find this new feature right below each article you generate. Simply click the suggested "tip" about adding relevant images or videos, and they will be selected for you with literally a single click.
Go try it out! It's...... auto... magical. 🎩
Here at Spin Rewriter we're in love with linguistics and everything that has to do with language... so, let me begin with this:
Happy Two's Day! 🎉
It's February 22nd, 2022... in other words, 2/22/22.
Nothing but twos. And it's a Tuesday!
How crazy is that? 🤪
But it gets crazier... In Europe we write dates as day-month-year, so over here today is actually 22-02-2022.
22022022.
Which means today's date is also a palindrome! You can read it left-to-right or right-to-left, and it's still the same old Two's Day. 🤓
And there's yet another, extra, BONUS level to this madness:
Not only is today's date a palindrome, on a digital clock you can even turn it upside down and it's still the exact same date! Go ahead, try it:

As linguists and geeks, we absolutely love weird stuff like Two's Day. And hopefully today is a great day for you, two too. 🤩
Another week, another upgrade. 💪
You know how you can easily generate hundreds of unique versions of your original article in Step 3?
Well, sometimes you may want to manually copy-and-paste just one of the unique versions so you can use it somewhere else.
😞 Sad part: Up until now, you had to click at the beginning of your freshly generated unique article and then carefully drag your mouse cursor alllll the way to the end of your article, selecting the entire thing. At which point you either pressed Ctrl+C or Cmd+C to copy the article, or you right clicked to Copy, or you went to your browser's menu bar to Edit > Copy.
🤩 Happy news: None of that careful work is required any more! We have added a brand new "Copy-to-Clipboard" button to Step 3 so you can now easily copy your unique articles with a single click.
Hope you like this latest user-experience upgrade!
We just rolled out another cool update. 🤩
When looking at your Archive of rewritten articles, each article is represented by a title. This title can either be generated automatically (usually from the first couple of lines of the article before it was run through Spin Rewriter), or it can be set manually by the user.
Now, if a user is setting custom titles for individual articles in their Archive, that's probably for a good reason! That user wants to be able to easily find this exact article in the future — probably among dozens of other articles he or she also has open at the same time.
So we've decided to significantly improve our UX when it comes to using custom article titles. 👍
From now on, when you open a finalized article, you'll see its custom title right there, in the middle of the screen of Step 3. And not only that — your article's custom title will also be included in the title of the web page, i.e. the text that's visible on the tab you have open in your browser.
In other words: You can now have dozens of articles open at the same time, and you'll be easily able to tell which article is which just by glancing at the tab titles in your browser. Or, if you're quickly switching between various articles, you'll see their titles very clearly in Step 3 where you're generating all of your unique articles.
Go check out this latest UX improvement as it's already live on our servers — and enjoy! 😃
Despite a slight New-Year's-Eve hangover, we're most definitely not standing still in 2022 here at Spin Rewriter! 🍾
In fact, we have just rolled out a BIG improvement to our exporting feature.
As you know, once you are done with the article spinning process and you're satisfied with the spintax you've generated, it's time to use Spin Rewriter to start generating top-quality unique articles.
Now, you've always had a number of different options available when looking at each specific unique article you generated:
You could add relevant images with a click,
or add relevant videos just as easily,
or check the spelling & grammar,
or run a Copyscape check,
or remotely post your unique article to a WordPress website,
or even export your unique article as a .txt file.
Which already sounds like a LOT of power, right? 🤩
Well, we've just taken things another step further and added two awesome new capabilites to give you even more power when using Spin Rewriter:
You can now also export your unique articles as PDF documents (.pdf).
And you can export your unique articles as Word documents (.doc).
This newest update to our exporting feature is already live on the servers — so you can try out the new .pdf and .doc exports for yourself right now! 👍
Enjoy!
The time is here — let's clink our glasses to a happy and successful new year 2022! 🥂
Looking back at 2021, while it was most definitely yet another strange year, it was actually also pretty great in more than a few regards.
In fact, looking at Spin Rewriter as a software product, 2021 was actually our most successful year — EVER! 🤩
During 2021 we launched a brand-new version of Spin Rewriter... and this latest-and-greatest Spin Rewriter version 12 has brought a plethora of amazing upgrades for our enthusiastic users.
This newest version 12 of Spin Rewriter has also been the BEST received version we have ever shipped. Both our long-time customers and our newest customers have been raving about the power of the ENL Semantic Spinning technology and the ease-of-use that we've packed into version 12.
And in my humble opinion: Happy customers is what this is all about. It's why we get up in the morning and it's why we've been putting all this effort into Spin Rewriter for the past 10 years. We're doing all of this to deliver happiness and success to our amazing customers.
So, of course, seeing that our customers actually love using Spin Rewriter is the definition of a dream-come-true for our entire team.
I hope you were able to make the most out of 2021 as well. ❤️
And I hope you're starting this brand-new year 2022 with a set of clearly defined goals, a renewed focus, fresh energy and pure excitement about your opportunities and your success that lies ahead.
Here's to ALL of your dreams coming true in the new year,
Aaron — and the entire INFINET LLC team 😃
For more posts, check out the Monthly Archives.
Why are we publishing all these updates?
Our blog lets our amazing users get all the latest updates on Spin Rewriter. This way you can always try out the newest features as soon as they're available — and let us know what you think.
Let us say this again: Thank you for your feedback!