First off, we hope you're enjoying the summer! ☀️
And if you're currently in between vacations (working on your articles, of course), we've also got some good news for you. 😃
We've further improved the way Spin Rewriter helps you add relevant images and videos to your freshly-generated unique articles.
With this latest update, you can now easily choose between inserting relevant media in between the paragraphs of your articles, or inserting relevant media as part of the paragraph with the text of your article flowing around them.
We recommend the first option when inserting videos as those require a bit more attention by people reading your articles — and we recommend the second option when inserting images as this will make your articles much more visually appealing and nicer to read.
Hope you like this update — and keep on enjoying your summer! 👍
I bet you weren't expecting this... 🙈
But yes, just like in the previous 12 years, we haven't been sleeping on our laurels since we launched the current version of Spin Rewriter... In fact, we've been working diligently on the next, even-better version. 🤩
And today I am beyond excited to tell you that we've now also picked a date.
🎉 Spin Rewriter 13 will be coming on October 19th! 🎉
We're already very far into the development process of the newest version — and so far, everything has been going as smoothly as we could have hoped for.
It definitely helps that our team has already delivered 12 rock-solid versions of Spin Rewriter over the past 12 years — and, just like with the previous versions, it's an absolute pleasure working with the entire team on this newest version as well.
So, if you'd like to know more about the upgrades that are coming...
Or, if you are interested in promoting the upcoming Spin Rewriter 13 launch as one of our amazing affiliate partners...
Our JV page for Spin Rewriter 13 is ready and waiting for you right here...
All of us are already counting down the days until Spin Rewriter 13 goes live on October 19th... just 89 days to go. ⏳
I hope you're as excited about this as we are! 😎
It's time for our first summer update to Spin Rewriter! ☀️
...and it's a big one! 😎
We've now made it extremely easy to import any existing spun articles (in spintax format) that you may already have.
In other words, if you were using a different article spinner in the past — or even spinning your articles manually, a lá 2008 — you no longer have to deal with keeping track of some of your spun articles somewhere else, and then the rest of your spun articles inside Spin Rewriter.
You can now easily import ALL spun articles in spintax format that you already have straight into your Spin Rewriter Archive, where they will happily live alongside the articles that you've actually spun with Spin Rewriter. 👍
To do that, you simply go to your Archive and click the Import button. You will be taken to a friendly interface where you can decide to either:
import your articles one-by-one inside text input fields,
upload your articles as separate .txt files,
or upload your articles as one giant ZIP file (with up to 500 articles).
It's as easy as 1-2-3. 🤩
As an additional UX goodie, we've also made sure that it's extremely easy to find your imported spun articles inside the Archive. Of course each of your imported articles will display an intelligently selected, meaningful title inside the Archive — but we've actually gone a bit further than that.
Each of your imported articles will also tell you exactly when it was imported, using your local timezone, so it's super easy to tell "oh these are the articles I imported 25 minutes ago" or "these are the ones I uploaded last night".
So if you've got any old spun articles lying around from pre-Spin-Rewriter times, go check out this new feature today. And have a great summer! 😃
It's time for yet another one of our famous video tutorials! 📹
Today we'll be looking at the hands-on details of polishing each of your finalized spun articles to perfection. We'll be focusing on what exactly to do with your articles in Step 3 of the spinning process, with no details left out.
In today's video tutorial you'll discover how to tweak and update your article spintax (if needed) and how to save any changes you've made to the spintax.
You'll also discover how to add relevant images and videos to your finalized articles — in more ways than one, actually. You can add relevant images and videos both by searching through our integrated databases of relevant media (which we've made super easy to use) OR you can simply tell Spin Rewriter to take care of the whole thing for you. In this case Spin Rewriter will determine the primary keywords and key phrases of each of your finalized articles and insert only the most relevant images/videos to bring your spun articles to perfection.
Finally, you'll see exactly how you can use our popular Side-by-Side feature to easily detect and remove any duplicated phrases that might have been carried over from the original article. This feature is also an absolute joy to use! 🤩
Check out how Spin Rewriter lets you polish your finalized articles to perfection:
It's videos like this one that will truly turn you into a unique-content generating ninja... 🥷 and make sure you never run out of high-quality, unique content. 👍
If you're interested in more videos like this, check out the full collection of Spin Rewriter video tutorials here... and have fun! 😃
Lately we've been talking about the official Spin Rewriter WordPress Plugin quite a bit.
But Spin Rewriter's integration with WordPress actually goes deeper than that. We're not just offering a plugin that you can install on your WordPress websites. Spin Rewriter also offers powerful WordPress features that are available directly from within your user account.
For example, you can post your spun articles to your WordPress websites literally with two clicks. This is called the "Remote Posting" feature. 👌
And today I want to talk about a small, but important update that we've recently rolled out for this feature.
Up until this point, when our users wanted to remotely post a spun article to one of their WordPress websites, they were shown a list of all of their available WordPress websites. Next to each website, there was a button that said "Publish". Straightforward enough, right?
Well... not exactly. 😬 See, if a user wasn't looking to publish their spun article immediately, but was instead looking to schedule their spun article so that it appears on their WordPress website at some later date in the future, they might have been spooked by having to push a button that said "Publish".
As soon as we realized that this UX wasn't ideal, our team gave it some further thought. And we believe we have made the whole process much nicer now.
The button that previously said "Publish" now says "Prepare Post". This reassures our users that nothing too drastic is going to happen just yet. Clicking the button takes our users to a new screen where they can preview their new post, pick one of their WordPress categories for it, and decide if they want to publish it right away or schedule it for a later date. 👍
We feel that UX improvements like this one make the whole experience of using Spin Rewriter much, much nicer. And we'll never stop striving to deliver the best possible experience to you guys. You can count on that! 🤩
You asked — and we listened! 😃
Imagine this (very common) scenario:
1. Our customer uses Spin Rewriter's powerful ENL spinning technology to generate a unique article from an existing article they already have.
2. Once they've got their brand-new unique article in front of them, they want to compare their new article to the original one, in order to make sure their freshly generated new article is truly unique.
Solution: We've always made it easy to compare articles inside Spin Rewriter, but now our team has truly taken this feature to the NEXT level. 🤩
A much, much better solution: With a recent update, we have added a powerful Side-by-Side feature that lets our users compare each of their generated articles to the original article they started with.
Our Side-by-Side comparison tool now instantly highlights any part of the new article that has remained unchanged when compared to the original article. This lets our users quickly find all phrases that are still duplicated, i.e. that appear in both the original article and the new freshly-generated article.
Our users can then easily live-edit their new generated article to get rid of these last remaining duplicated phrases, with highlights updating in real-time as they make changes to their article.
This new Side-by-Side comparison tool is truly super powerful — and super easy to use! 👍
Go check it out now!
You're probably already familiar with the official Spin Rewriter WordPress Plugin. I'm talking about our WordPress plugin that lets our users keep all of their websites full of unique, high-quality, relevant content at all times — without putting in any manual effort.
Good news: We've just released an updated version (v12.2.0) of the plugin. ✅
In this latest version, we're delivering two big updates:
Update #1: Improved compatibility with the WordPress Block Editor (i.e. "Gutenberg editor"). When spinning existing blog posts with Spin Rewriter right inside your WordPress admin panel, your freshly spun blog posts will now keep all of their formatting exactly as you want it. Your paragraph structure, bold fonts, italics, images, etc. will all be preserved in terms of formatting. At the same time, all of the text will be processed by our ENL Semantic Spinning technology and rewritten in a completely unique, yet perfectly readable way. 🤩
Update #2: Better caching system for static files that are part of our WordPress plugin. In other words, all required JavaScript and CSS code will be automatically reloaded whenever you install a new version of our WordPress plugin. This means no more annoying caching issues, no more having to clear your browser cache, and so on. With each new update, everything will just work. 👌
Pretty sweet, right?
In order to update your installation of the Spin Rewriter WordPress Plugin to the latest version, simply log into your WordPress Admin Panel, then go to Plugins, find the Spin Rewriter plugin and click the "Check for updates" link next to it. This will give you the option to easily update to the latest version v12.2.0 with a click.
Enjoy!
I'm sure you've run into the following issue before:
You're writing or editing an article in a text editor like Notepad. You do a great job. Then you go to copy-and-paste your article somewhere else and the line endings get all messed up. 😖
Suddenly some of your
sentences contain unwanted line-breaks in the
middle. This can
happen when copying articles from a text editor
that is using incorrect word-wrap settings. Instead of line-breaks
at the end of
paragraphs, we end
up with unwanted line-breaks in the middle of sentences.
⬆️ This is the issue we're talking about.
And it's super annoying.
🤩 Luckily Spin Rewriter can now auto-DETECT and auto-CORRECT these types of issues!
When Spin Rewriter detects that you've entered an article (in Step 1) that has this sort of line ending issues, it will instantly offer to fix the issue for you, like this: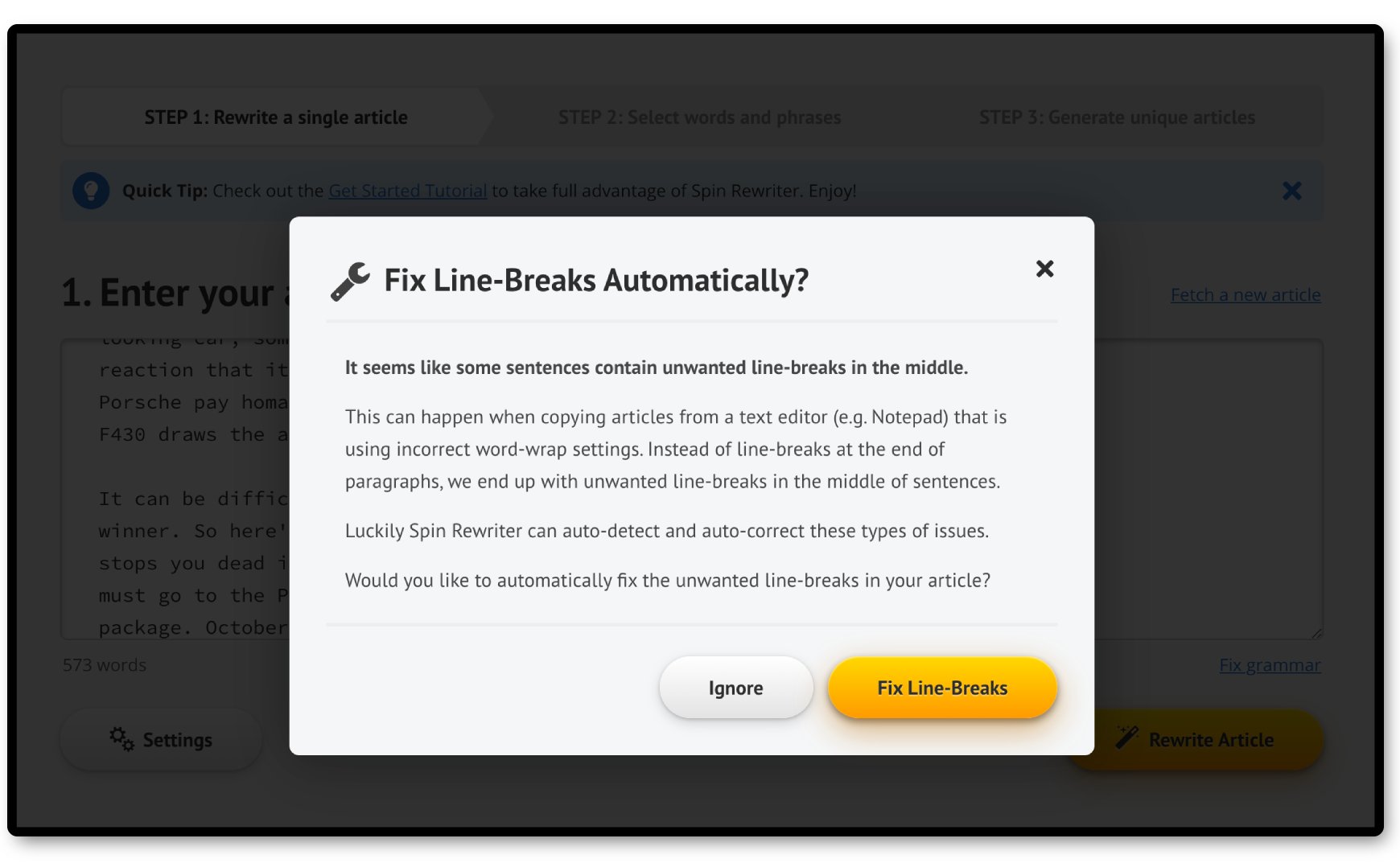 Simply click "Fix Line-Breaks" and you're done.
Pretty cool, right? 😃 Go check it out now!
I already wrote about a cool quality-of-life upgrade to your Archive about two weeks ago, but — as always — we're not stopping there.
We have just rolled out another update that now lets our users SORT articles inside the Archive by either article title or by article time.
As an additional UX goodie, we've made sure that when you want your articles sorted by title, the default order is "ascending", meaning you will see your articles ordered alphabetically.
And when you want your articles sorted by time, the default order will be "descending", meaning you will see your most recent articles at the top of the list.
These are just sensible defaults that make our users' lives easier. Little tweaks where we put in the extra thought required to make things work in an intuitive way.
When you're sorting your Archive by article title, of course it makes sense to expect your articles to be ordered alphabetically — and when you click on the time column, you most likely want to see your most recent articles first.
Now, of course it's also extremely easy to reverse the sort order if you need that, too. Simply click the name of the column again. Goes without saying. 😃
Enjoy the update — it's already live inside your account.
This morning we rolled out an update that's going to make the lives of our power-users even easier. Let me tell you all about it. 😎
Most of our users — at least those that have been using Spin Rewriter for a while — have hundreds upon hundreds of articles in their Archive, often neatly organized into dozens of custom categories.
And once our users are dealing with hundreds or even thousands of articles, the features and UX design inside the Archive become quite important!
Up until this point, if a user navigated into one of their custom categories and then clicked through to Page 7 (for example), and then deleted multiple articles from that page with a single bulk operation, the articles got deleted successfully — but after the deletion process, the user lost their exact place inside their Archive and was clumsily returned to the first page of their Archive. Which can be... frustrating. 😬
Well — no more! 😃 We have now taken care of this UX glitch!
No matter which changes you make inside your Archive (e.g. delete multiple articles, assign a collection of articles to a different category, etc.), you will always keep your exact place after the operation. This way navigation remains intuitive — which means it's much easier to keep your Archive neat and tidy at all times.
Go check it out — I think you're going to like it! 👍
For more posts, check out the Monthly Archives.
Why are we publishing all these updates?
Our blog lets our amazing users get all the latest updates on Spin Rewriter. This way you can always try out the newest features as soon as they're available — and let us know what you think.
Let us say this again: Thank you for your feedback!