🥳 Today it's time to celebrate — Spin Rewriter just turned 10 years old! 🥳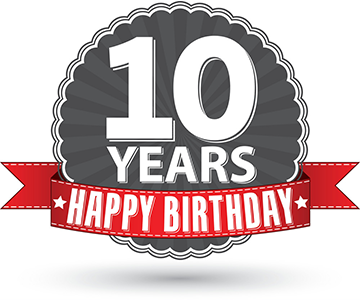 10 years! I genuinely cannot believe it's been 10 years since we launched the first version of Spin Rewriter all the way back on September 14th, 2011.
Well... "we" launched. Of course at the time we were a pretty small team. It was me, myself and I. 😆
Looking back, 2011 was a truly magical time. I genuinely had a blast creating that first version of Spin Rewriter — and to tell you the truth, I couldn't have imagined what lay ahead even in my wildest dreams.
The first response to Spin Rewriter on that September 14th, 2011 launch day was absolutely incredible and let me know I was onto something — but everything that's happened since those humble beginnings has truly surpassed all of our wildest expectations.
🤯
Over these wonderful past 10 years, our team has grown and grown. We've kept innovating and working really hard for 10 years to be where we are today — and our 181,000+ users have rewarded us by loving Spin Rewriter, sending us incredible feedback and getting amazing SEO results with it.
And right now, as I'm writing this blog post, I genuinely couldn't be more excited about what the future holds for Spin Rewriter. It's going to get really exciting really fast, too — as we'll be launching version 12 on October 6th!
So here's to Spin Rewriter: Happy 10th Birthday! 🎂
And to all of our incredible customers:
We're doing all of this for YOU — because you guys are the BEST! 🍻
Published on: September 14th, 2021
← Previous: Spin Rewriter 12 is coming SOON...
→ Next: Updated API library: PHP