Time for another update. 😃
The improvements that we rolled out this morning will make your life even easier by preventing you from ever losing any of your unsaved progress.
Some of our users like to manually tweak the actual article spintax inside Step 3 that's then used to generate hundreds of unique articles for them.
So we've made sure that when there are unsaved changes present in the article spintax in Step 3, you can no longer accidentally navigate away from Step 3 without being asked if you want to save those changes first.
This has the potential to save you a big headache in the future — and that's always a good thing. 👍
After our recent blog posts comparing Spin Rewriter to a few of our competitors, it's become obvious that you guys absolutely love content like this.
So we're definitely not stopping here! 💪
Today we have yet another comparison for you, and this time we're asking:

"How does Spin Rewriter compare to Chimp Rewriter?"
After a lot of research, here's our detailed comparison of Spin Rewriter vs. Chimp Rewriter: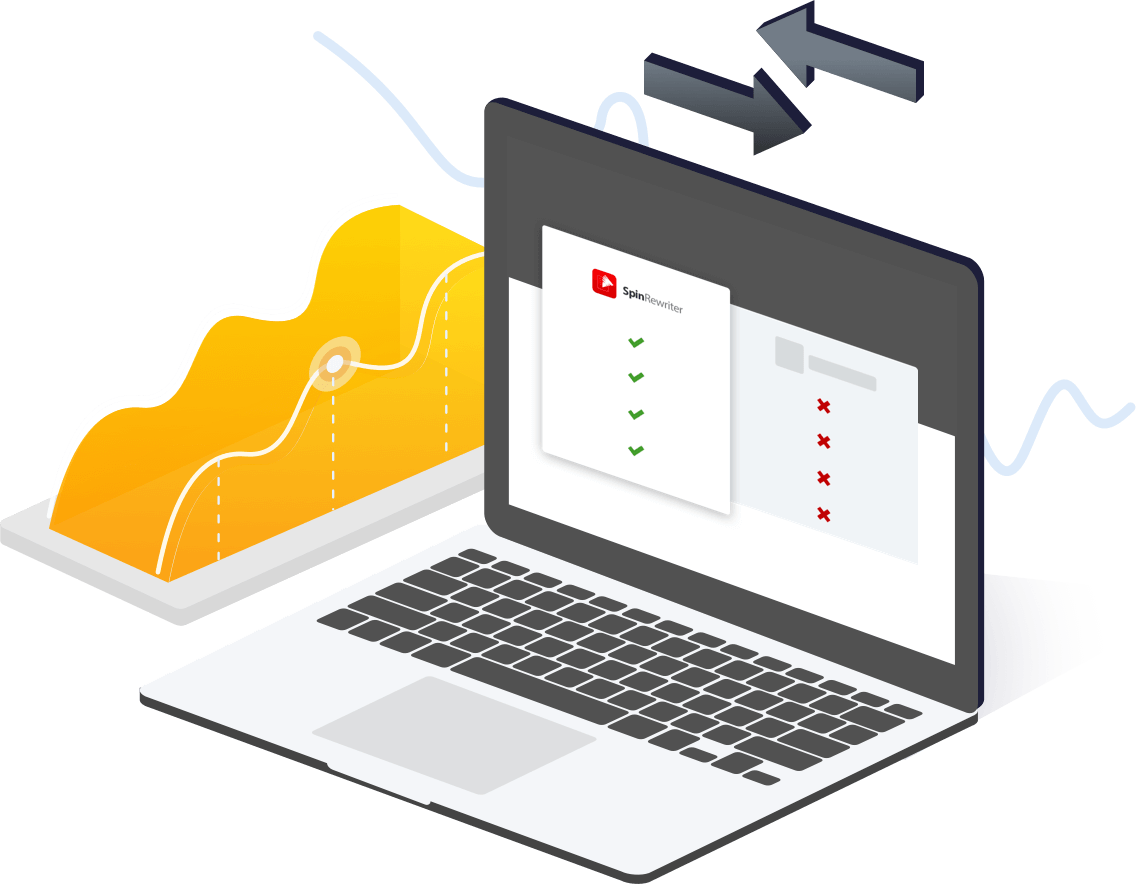 This comparison shows you exactly how Spin Rewriter and Chimp Rewriter compare when it comes to generating high quality, unique content...
Once again we'll be comparing Spin Rewriter and Chimp Rewriter in terms of:
✅ yearly pricing
✅ lifetime pricing
✅ spinning features
✅ API requests available
✅ side-by-side comparison
✅ user experience
✅ mobile/desktop device support
✅ customer support
and more...
And finally, we'll try to place both Spin Rewriter and Chimp Rewriter on a scale from a chimpanzee to William Shakespeare when it comes to writing high quality content for your SEO needs.
Enjoy this latest head-to-head comparison! 👍
Another week, another update. 👍
We just rolled out an improved "Auto-Save" feature in Step 1, with a completely revamped change-detection logic and a new, extremely user-friendly indicator.
So when you're entering your original article into Spin Rewriter in Step 1, you don't have to worry — at all! — about losing any of your progress. Ever.
As soon as you make some changes to your original article in Step 1, our code will detect this and auto-save your progress while displaying a lovely auto-save indicator in the bottom left corner of the editing area.
This way you will never lose any your work... and you can always return to your unfinished articles at a later time if necessary.
Go give this new feature a try right now — it's fun! 😃
For more posts, check out the Monthly Archives.
Why are we publishing all these updates?
Our blog posts let our users stay up-to-date with all of the updates here at Spin Rewriter. This way you can discover all of the latest features — so you can try them out and tell us what you think.
We really appreciate all of your feedback — thank you!