We have just rolled out another amazing feature for
the official Spin Rewriter WordPress Plugin
.
You will now see a dedicated "Spin this post with Spin Rewriter" button right below all of your posts, whether you're creating a brand new post or editing an existing one. By clicking that button, you'll be able to send your current text inside the post editor to Spin Rewriter so it gets spun and transformed into brand new, unique text.
They say a picture is worth 1000 words. So I'm guessing a video is worth a 1000 pictures? 😃
Here's the video of the new feature in action:
Today I came across a fun video that shines some extra light on the stuff we're dealing with when developing the ENL Semantic Spinning technology that's packed right into Spin Rewriter (
version 6.0 of which was just released last Wednesday!
).
So yeah, if you're curious to see what we're up against when processing the natural language with the help of trusty computers, take a look at this short & sweet video:
"Buffalo buffalo Buffalo buffalo buffalo buffalo Buffalo buffalo."
Yup, that's a perfectly valid sentence. The video above reveals what it actually means. 😃
So...... Here's the thing, haha 😃
It seems like a decent chunk of our user-base (and especially potential user-base of people who have already heard about us a couple of times, but haven't actually signed up just yet) thinks that the name of our product is...
Spin Writer.
Hmmm, sounds close enough, right? 😃
Anyway, we didn't want anyone to get confused, or to have to stare at a blank page if they type the SpinWriter domain name into their web browser... so we just bought the LUDICROUSLY-EXPENSIVE SpinWriter.com domain name. 😃
And, of course, it now redirects everyone straight to
www.SpinRewriter.com
, haha 😃
Woohoo, we just went live with
the brand-new Spin Rewriter 6.0
which is more powerful and more polished than EVER before!
Feel free to check it out right away!
Yup, that's right...

Sneak peek at just some of the new features in Spin Rewriter 6.0:



Hope you like it as much as we do! 😃


Apple's review team for iOS apps took their sweet time, but now we're extremely happy to announce that the official Spin Rewriter iOS app for the iPhone just got published in the App Store!
It's called
Spin Rewriter GOLD
(just like its Android counterpart), it's a native & well-polished iOS app for your iPhone, and you can grab it for free right from the official Apple's App Store:
https://itunes.apple.com/us/app/spin-rewriter-gold/id1037836174?mt=8
Much like it's Android sibling, this FREE app allows our GOLD Members to take full advantage of the power of its built-in ENL Semantic Spinning technology even when you're on the go, using your iPhone. We hope you like this iOS app, too! 😃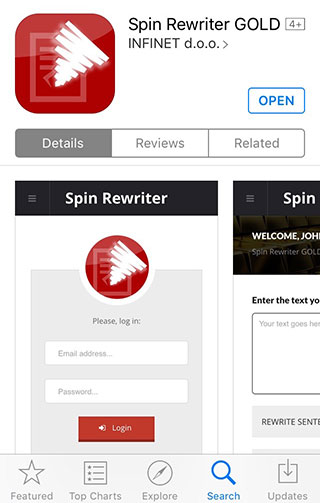 For more posts, check out the Monthly Archives.
Why are we publishing all these updates?
Our blog posts let our users stay up-to-date with all of the updates here at Spin Rewriter. This way you can discover all of the latest features — so you can try them out and tell us what you think.
We really appreciate all of your feedback — thank you!