That's right, Spin Rewriter has now got a full-fledged, native, well-polished Android app!
It's called
Spin Rewriter GOLD
and you can grab it for free right here in the official Android Play Store:
https://play.google.com/store/apps/details?id=com.spinrewriter.spinrewritergold&hl=en
Here's the description from the app's page in the store:
"
Spin Rewriter GOLD app allows you to take full advantage of its built-in ENL Semantic Spinning technology right from your phone.
The app comes with an option to process texts while selecting your desired level of spinning. You can choose to spin your texts on both sentence and paragraph level, you can have a summary of your text generated automatically, you can change the structure of sentences and of course protect capitalized words and a specified list of keywords.
When generating new texts you will also be presented with a range of options, from using just the suggested synonyms to reordering paragraphs and bullet points in unordered lists.
The app also comes with Spin Rewriter's signature "low", "medium" and "high" confidence levels of spinning built right in.
"
Spin Rewriter's new official FREE Android app allows all our GOLD Members to access the full power of Spin Rewriter's ENL Semantic Spinning right from their phone. We hope you like it as much as we do! 😃
They grow up so fast, don't they?!?
It was September 14th, 2011... exactly 4 years ago... when a big-eyed and hopeful new piece of software greeted its users for the very first time. It turns out they loved him very much, and kept him happy and well nourished ever since... so he grew, and grew, and grew.
And TODAY, Spin Rewriter turned 4 years old. Happy Birthday!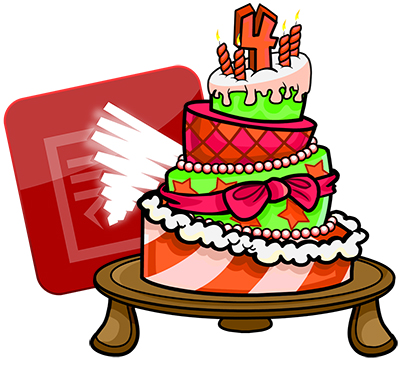 We just rolled out another "silent" update to the
Spin Rewriter API
infrastructure.
What I mean by "silent" is that you'll hopefully never notice that we even rolled it out.
Unless
you need one of its new benefits, that is. The new "API keys" system makes it possible to revoke or change API keys for existing users which will prove to be very helpful in the long run.
For example, if you were recording a promotional video about Spin Rewriter for your users and you unintentionally revealed your API key in the video, there's nothing to worry about anymore. You can just contact our support desk and they'll revoke your old API key (because it's now publicly known) and re-issue you a new one.
Onwards and upwards with awesome behind-the-scenes updates! 😃
For more posts, check out the Monthly Archives.
Why are we publishing all these updates?
Our blog posts let our users stay up-to-date with all of the updates here at Spin Rewriter. This way you can discover all of the latest features — so you can try them out and tell us what you think.
We really appreciate all of your feedback — thank you!