Once again we're about to turn the page onto a new year... and once again I couldn't be happier about the year that is slowly waving us goodbye. 2015 was another incredible year for us, and I sincerely hope it's been an incredible year for you as well.
Right now seems like a great time to take a quick look at what lies ahead: 2016. I really hope 2016 is the year that you'll be looking back to
ten
or
twenty

years from now
... and that you'll be saying "
man, 2016 was an absolutely amazing year for me in every way — I couldn't have wished for a better one.
"
As for us here at INFINET, I can promise you that we'll keep on working incredibly hard to keep all of our customers more than happy in 2016 and beyond.
I hope all your hopes & dreams come true --
here's to an incredible year for you,
Aaron — and the entire SmileyTech Solutions / INFINET team 😃
Christmas is now so close we can almost smell the eggnog and the mistletoe and mulled wine... and presents! Let's not forget about the presents! 😃
Speaking of which, as our final present for 2015 we've just rolled out yet another spinning algorithm update for
Spin Rewriter 6.0
earlier this morning. Lately we've noticed that some words were sometimes being duplicated once they've made their way through the whole process of synonym selection.
Our engineers rolled up their sleeves and went to work immediately — and I'm super happy to say we've now squashed that tiny little bug, and made Spin Rewriter even better!
And here's just a tiny screenshot of what our bug-hunting adventure looked like this time around: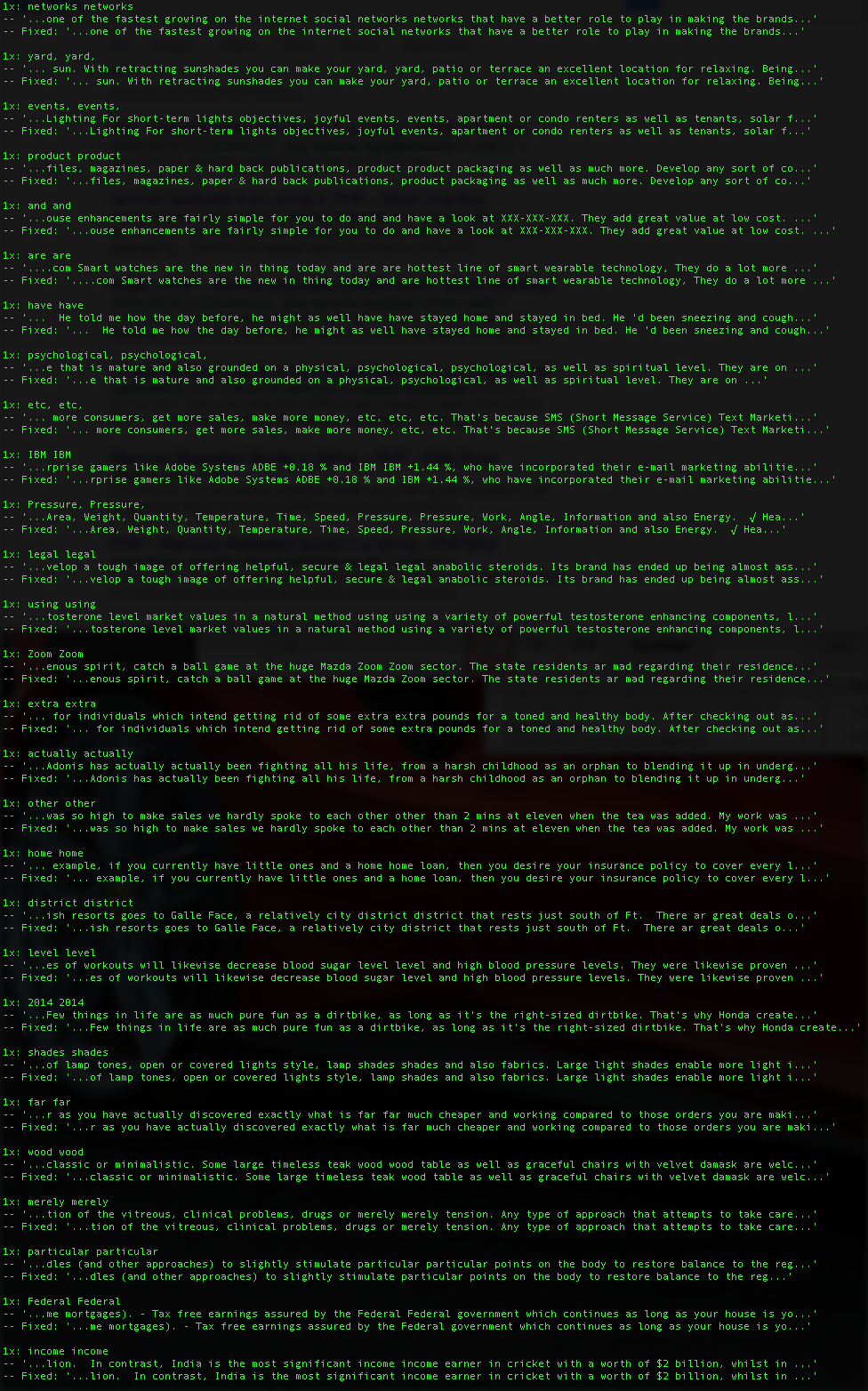 It was quite a bit of fun fixing these minor mishaps! 😃
Happy Holidays,
Aaron 😃
The
official Spin Rewriter WordPress Plugin
just got even better!
As you might know, our awesome plugin lets you use the full power of Spin Rewriter and its ENL Semantic Spinning technology to spin & republish your existing blog posts as soon as they reach a certain age (e.g. 7 days, or 3 weeks, or 2 months). This way your blogs are always chock-full of new and exciting unique content, and it can all happen completely on auto-pilot without any effort on your part.
Today's newest upgrade makes all of this even easier. You can now quickly select those of your existing blog posts that you do
not
want to get spun and re-published, and you can even exclude ALL of your blog posts with a single click and then manually pick just those that you
do
want to feed to our automated algorithm. 😃
Check it out, it's super cool (and extremely powerful in terms of SEO)!
For more posts, check out the Monthly Archives.
Why are we publishing all these updates?
Our blog posts let our users stay up-to-date with all of the updates here at Spin Rewriter. This way you can discover all of the latest features — so you can try them out and tell us what you think.
We really appreciate all of your feedback — thank you!