One of the tiny little minor things that we'll be rolling out with
Spin Rewriter 7.0 on October 12th
(along with a number of huge, important changes) might interest you if you're tired of always entering your password when you're getting ready to spin some articles.
We've now added the option to stay logged into your Spin Rewriter account even if you close your browser between two spinning sessions. As long as you visit Spin Rewriter at least once a month, you can stay logged in and never have to worry about entering your password again.
Our back-end implementation of this feature follows all latest security guidelines and recommendations, and has been vetted by an external security team. We take these things incredibly seriously.
Hope you like the new (very convenient) feature! 😃
...that there's a new spinner on the block!
And, well, you know what they say. "
Imitation is the sincerest form of flattery
" and all that. At least that's what I've been telling myself. 😃
So, here's Spin Rewriter's design for remote posting to WordPress websites. We rolled it out in 2014: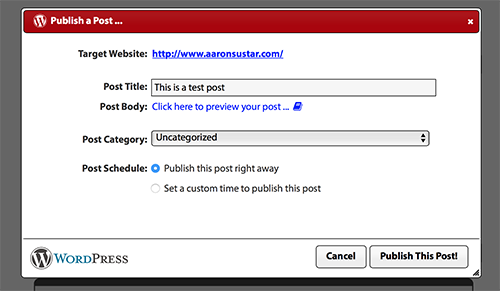 And here's how our newest competitor completely reimagined their remote posting interface: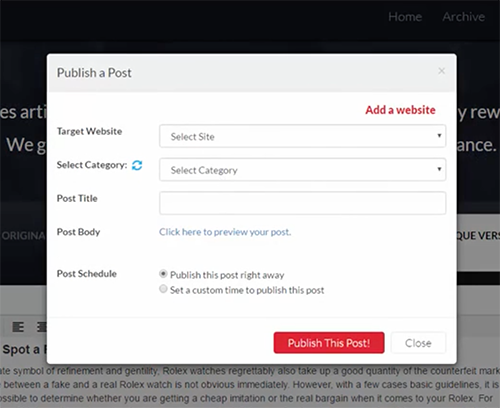 Hmm... OK. Well, they
did
switch around the "Cancel" and "Publish This Post" buttons in the bottom right, I'll give them that.
In all seriousness, I wish them all the best — the more, the merrier!
Hooray!
The mobile version of
the official Spin Rewriter website
now passes all tests when it comes to delivering a truly great user experience on mobile devices with small screens.
You've seen some of the changes that we've recently rolled out in
my previous post on mobile responsiveness
, and today I'd like to share this with you: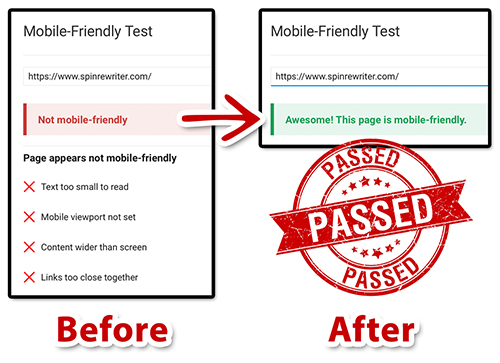 Spin Rewriter - Mobile User Experience
The result of the test above means that our website now passes all challenges that stood in our way on the path to a truly great mobile user experience. From large and friendly texts, generous whitespace, larger targets for links and buttons... which also includes a completely redesigned header and footer of the website... all the way to mobile-optimized images and so on and so forth.
Thanks to everyone on the team who had a hand in delivering these updates, and we couldn't be more excited about it all! 😃 Hope you like it!
For more posts, check out the Monthly Archives.
Why are we publishing all these updates?
Our blog posts let our users stay up-to-date with all of the updates here at Spin Rewriter. This way you can discover all of the latest features — so you can try them out and tell us what you think.
We really appreciate all of your feedback — thank you!