We've just made things
even easier
for all developers out there who wish to integrate
Spin Rewriter's incredible power of ENL Semantic Spinning
into their applications.
We've updated our (almost famous) working code samples, along with
the brand-new Spin Rewriter API SDK
(PHP Library & Examples), version 4.1.0.
With all this code ready to go, you can now integrate Spin Rewriter's article spinning technology into your own software products with — literally! — 3 lines of code!
Of course our API developer documentation still tells you everything about all the features that are available through the API (which is all of them), and how to use them:
https://www.SpinRewriter.com/api
Enjoy! 😃
Wait,
what
... what does that even mean?!
"Retinafied?!" What kind of a word is that?
Well, it all comes down to all these new shiny gadgets sporting super high-resolution displays... For instance:
iPhone 5S with 1136 x 640 pixels on a mere 4" screen,
Samsung Galaxy S5 with 1920 x 1080 pixels on a 5.1" screen,
iPad Mini with 2048 x 1536 pixels on a 7.9" screen,
and last but not least, MacBook Pro Retina with 2880 x 1800 pixels on a 15" screen.
All of these new devices have got
so many pixels
that modern web apps (such as
Spin Rewriter
) need to be redesigned and updated to take full advantage of these high-resolution screens.
Imagine the Spin Rewriter logo, this one right here:

Spin Rewriter logo - standard definition
When you're looking at it on your laptop, it's probably just over 2 inches (6 cm) wide and about an inch (2.5 cm) tall, depending on the size of your laptop. Back in 2011 when it was created, it took about 220 x 80 pixels to fill up this space so our logo is 220 x 80 pixels big. This comes out to 17,000 pixels.
Nowadays, devices can display much more pixels on the same 2-by-1 inch area.
4 times as much, in fact!
This means we can make the logo look much
MUCH
sharper. So we redesigned it! It's now 440 x 160 pixels big, which comes out to roughly 68,000 pixels which is four times as many as 17,000.
Would you like to see the difference? Here it comes...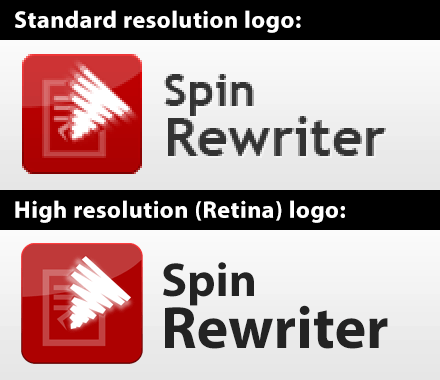 Spin Rewriter logo - standard definition vs Retina high definition
Just look at how much sharper the font is! And the squiggly lines on the image are much more pleasant-looking, too.
As you know, we're always working hard to make sure you get an amazing experience out of using Spin Rewriter... This means we need to make sure the quality of our spun articles is unparalleled, and it
also
means that we need to make sure our web application is on the cutting-edge of progress. And we're more than happy to do this for you! 😃
Oh, and
happy 4th of July
to all our American friends tomorrow!
For more posts, check out the Monthly Archives.
Why are we publishing all these updates?
Our blog posts let our users stay up-to-date with all of the updates here at Spin Rewriter. This way you can discover all of the latest features — so you can try them out and tell us what you think.
We really appreciate all of your feedback — thank you!