I'm sure you've run into the following issue before:
You're writing or editing an article in a text editor like Notepad. You do a great job. Then you go to copy-and-paste your article somewhere else and the line endings get all messed up. 😖
Suddenly some of your
sentences contain unwanted line-breaks in the
middle. This can
happen when copying articles from a text editor
that is using incorrect word-wrap settings. Instead of line-breaks
at the end of
paragraphs, we end
up with unwanted line-breaks in the middle of sentences.
⬆️ This is the issue we're talking about.
And it's super annoying.
🤩 Luckily Spin Rewriter can now auto-DETECT and auto-CORRECT these types of issues!
When Spin Rewriter detects that you've entered an article (in Step 1) that has this sort of line ending issues, it will instantly offer to fix the issue for you, like this: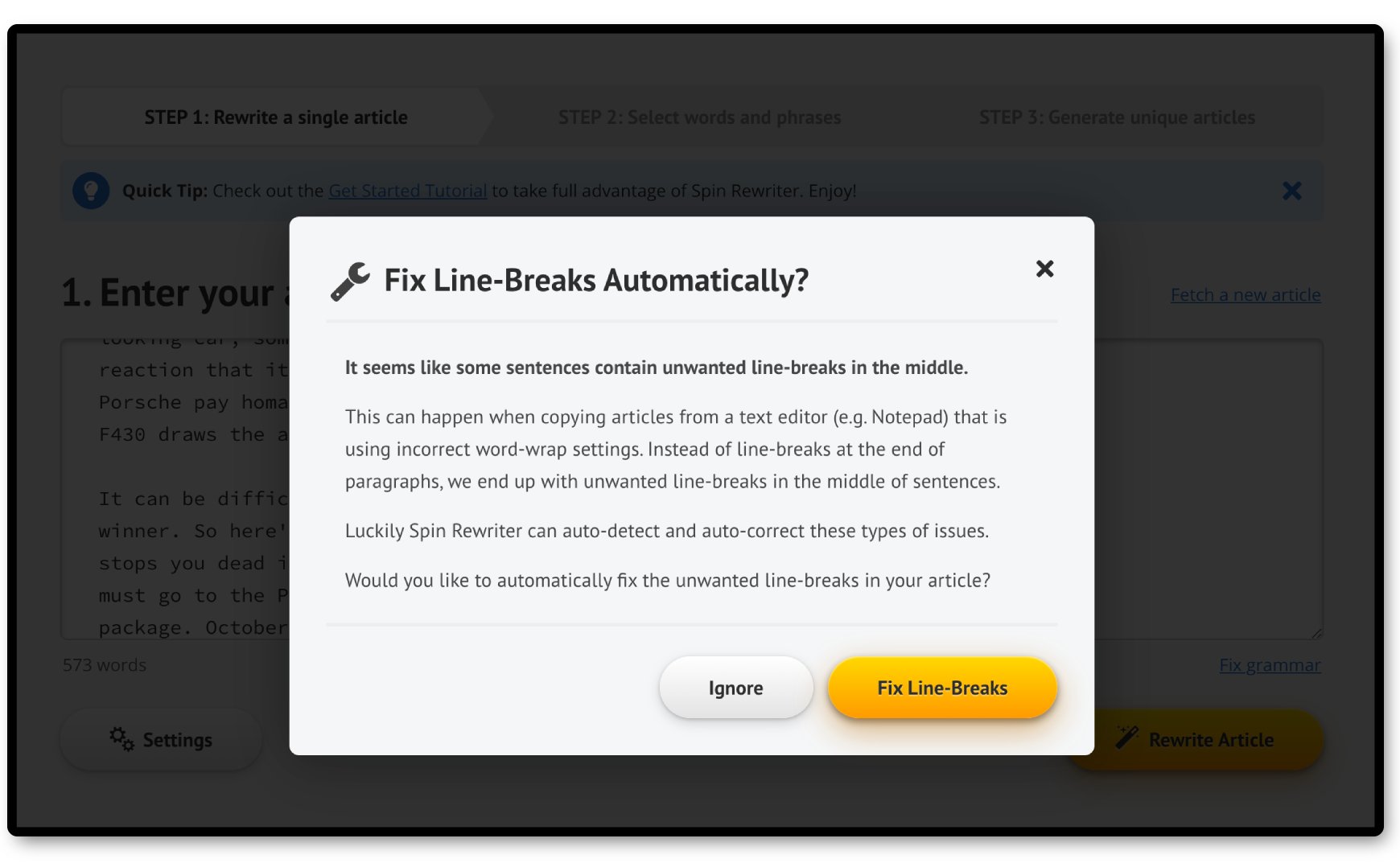 Simply click "Fix Line-Breaks" and you're done.
Pretty cool, right? 😃 Go check it out now!
I already wrote about a cool quality-of-life upgrade to your Archive about two weeks ago, but — as always — we're not stopping there.
We have just rolled out another update that now lets our users SORT articles inside the Archive by either article title or by article time.
As an additional UX goodie, we've made sure that when you want your articles sorted by title, the default order is "ascending", meaning you will see your articles ordered alphabetically.
And when you want your articles sorted by time, the default order will be "descending", meaning you will see your most recent articles at the top of the list.
These are just sensible defaults that make our users' lives easier. Little tweaks where we put in the extra thought required to make things work in an intuitive way.
When you're sorting your Archive by article title, of course it makes sense to expect your articles to be ordered alphabetically — and when you click on the time column, you most likely want to see your most recent articles first.
Now, of course it's also extremely easy to reverse the sort order if you need that, too. Simply click the name of the column again. Goes without saying. 😃
Enjoy the update — it's already live inside your account.
For more posts, check out the Monthly Archives.
Why are we publishing all these updates?
Our blog posts let our users stay up-to-date with all of the updates here at Spin Rewriter. This way you can discover all of the latest features — so you can try them out and tell us what you think.
We really appreciate all of your feedback — thank you!