Apple's review team for iOS apps took their sweet time, but now we're extremely happy to announce that the official Spin Rewriter iOS app for the iPhone just got published in the App Store!
It's called
Spin Rewriter GOLD
(just like its Android counterpart), it's a native & well-polished iOS app for your iPhone, and you can grab it for free right from the official Apple's App Store:
https://itunes.apple.com/us/app/spin-rewriter-gold/id1037836174?mt=8
Much like it's Android sibling, this FREE app allows our GOLD Members to take full advantage of the power of its built-in ENL Semantic Spinning technology even when you're on the go, using your iPhone. We hope you like this iOS app, too! 😃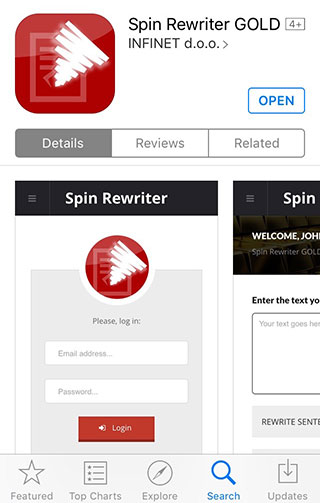 Previous blog post: Spin Rewriter got an official Android app!
Next blog post: Here's a sneak peek at Spin Rewriter 6.0