Open any month to discover 292 updates.
We've been working hard on Spin Rewriter for 10 years now, with new updates released every single month. Go check them out!
As we're getting ready to unveil Spin Rewriter 12 on October 6th, we're also working on things that we know are going to make our fellow developers happy. 🤓
As you know, Spin Rewriter comes with a really powerful API. What this means is, it's extremely easy for developers to integrate the power of Spin Rewriter's ENL Semantic Spinning technology directly into 3rd party software products.
These integrations are an absolute breeze because we offer working code samples in a number of popular programming languages: PHP, Python, JavaScript and C#.
And it's not just about our working code samples — we also offer entire libraries that already contain 99% of the code you need to write to get your own Spin Rewriter API integration up and running.
So — this brings me to today's good news! 🤩
We've just updated our PHP SDK library (as well as our collection of working PHP code samples) to make it even easier for developers to integrate Spin Rewriter into their own products.
Feel free to check it out now — the updated PHP library is already live on the website — as we can't wait to see what you create with the power of our API! 💪
🥳 Today it's time to celebrate — Spin Rewriter just turned 10 years old! 🥳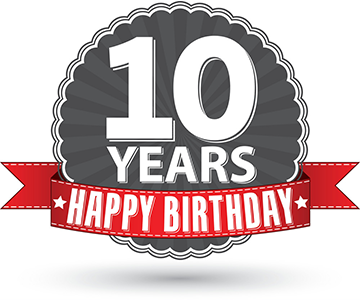 10 years! I genuinely cannot believe it's been 10 years since we launched the first version of Spin Rewriter all the way back on September 14th, 2011.
Well... "we" launched. Of course at the time we were a pretty small team. It was me, myself and I. 😆
Looking back, 2011 was a truly magical time. I genuinely had a blast creating that first version of Spin Rewriter — and to tell you the truth, I couldn't have imagined what lay ahead even in my wildest dreams.
The first response to Spin Rewriter on that September 14th, 2011 launch day was absolutely incredible and let me know I was onto something — but everything that's happened since those humble beginnings has truly surpassed all of our wildest expectations.
🤯
Over these wonderful past 10 years, our team has grown and grown. We've kept innovating and working really hard for 10 years to be where we are today — and our 181,000+ users have rewarded us by loving Spin Rewriter, sending us incredible feedback and getting amazing SEO results with it.
And right now, as I'm writing this blog post, I genuinely couldn't be more excited about what the future holds for Spin Rewriter. It's going to get really exciting really fast, too — as we'll be launching version 12 on October 6th!
So here's to Spin Rewriter: Happy 10th Birthday! 🎂
And to all of our incredible customers:
We're doing all of this for YOU — because you guys are the BEST! 🍻
It's time for another BIG announcement:
🎉 Spin Rewriter 12 goes live on October 6th — just a month from today! 🎉
...and here's what we've got planned for version 12:
We've worked crazy hard on another big leap forward in ENL Semantic Spinning technology, especially in regards to spinning (multi-word) phrases... and we couldn't be happier with how it turned out! 🤩
We've performed a manual review of our synonym database (with over 650 hours invested) to further refine the synonym suggestions our algorithm is making for words, phrases, sentence order changes, paraphrasing, etc.
We've further improved the user experience (UX) as a result of extensive in-person user testing that our UX team has been focusing on this year.
We've improved our famous on-boarding process that guides our newest users by the hand, all the way to their first finished high-quality spun article.
We'll be rolling out a revamped collection of tutorial videos that explain every last feature of Spin Rewriter and turn our users into certified content-generating ninjas.
We've made our integration with outside (3rd party) royalty-free media providers even more seamless.
And we'll be rolling out two more secret features that are GAME-CHANGERS when it comes to high-quality, unique content.
Bottom line: Spin Rewriter version 12 launch is shaping up to be an insanely exciting launch for all our users. 👏
And of course — If you are interested in promoting the upcoming Spin Rewriter 12 launch, our JV page is ready and waiting for you right here...
We're counting down the days until Spin Rewriter version 12 goes live on October 6th... precisely one month to go. ⏳
There are some truly exciting times ahead! 😎
You know how Spin Rewriter also offers an official WordPress Plugin that lets you make sure all of your websites are always chock-full of unique, high quality content?
Well, we just pushed out a pretty cool update for our plugin. 🤩
From now on, even if our users end up installing the WordPress Plugin on a misconfigured server, the plugin will do its very best to power through while not showing any unnecessary PHP notices — only warnings and errors, as expected.
We've also packaged some UX improvements into this upgrade, and — much more importantly — laid the groundwork for a much bigger upgrade that's coming in the following weeks... so stay tuned. 😃
A brand new update is here, our first one for August! 👍
You're undoubtedly familiar with the Archive section of your Spin Rewriter account — it's where you can find all of your spun articles.
But the question is: What happens when a user has zero spun articles to display? What do we show in the Archive when a user is still brand-new to Spin Rewriter and they haven't created any articles just yet?
So far, in this case the Archive was simply... empty. If there were no articles to show, the Archive was more or less blank. Which is technically okay, but it certainly isn't as friendly as it could be. 😬
So we've decided to improve this aspect — by adding a wonderful "empty state" graphic element to the Archive page when there are no articles to display.
You can check out this visual / UX upgrade below: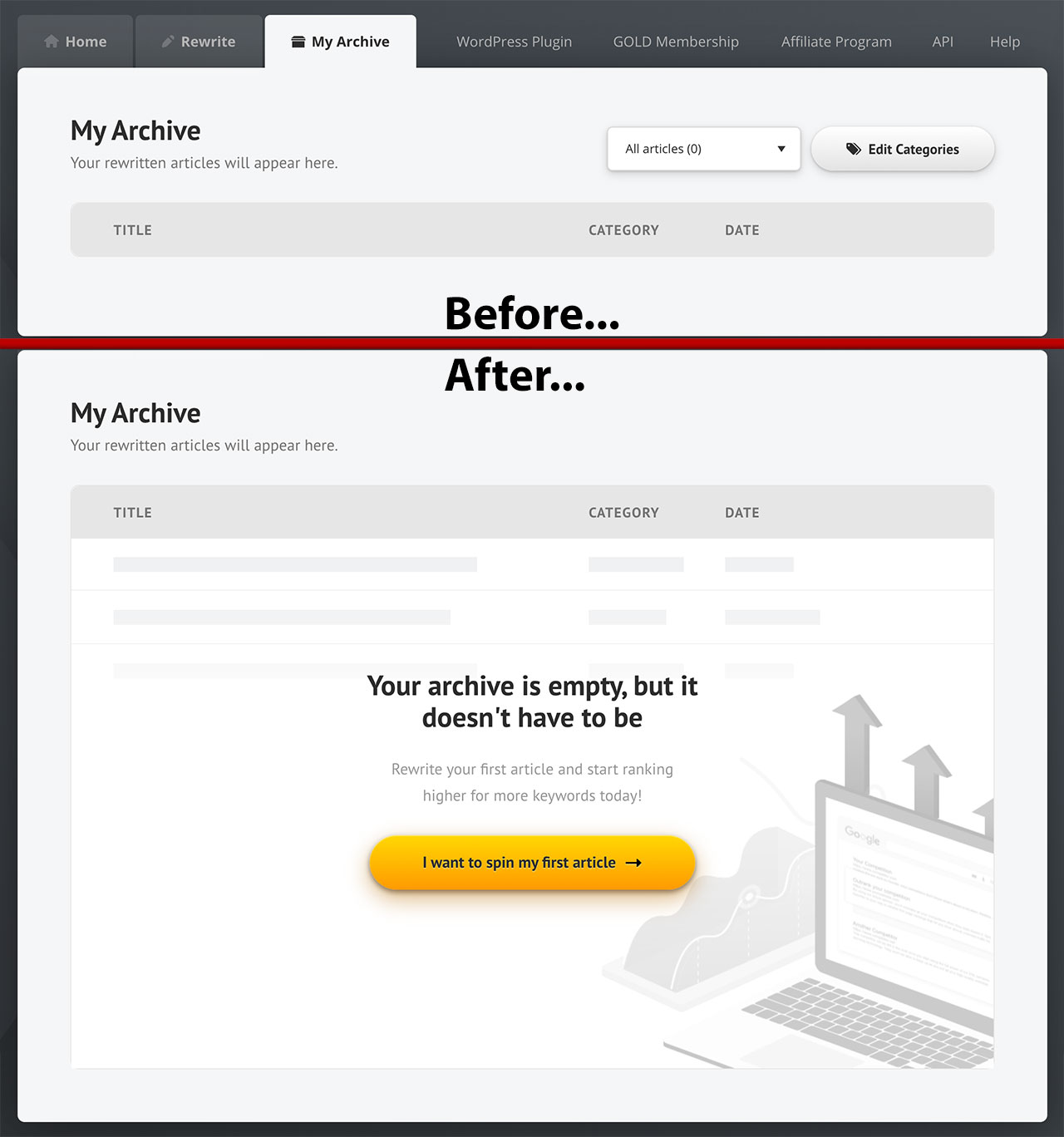 At some point, most new users will check out their Archive page — and seeing a completely blank Archive ("before" in the screenshot above) feels a bit unfinished.
In comparison, seeing the lovely "empty state" graphic ("after" in the screenshot above) feels much friendlier and encourages the user to spin their first article.
And this is what we're all about here at Spin Rewriter. 😃
Making users feel right at home and helping them spin articles — because as long as our users are happy, we are happy. Enjoy this latest update! 👍
As you know, Spin Rewriter can be extremely helpful even once you're done spinning your article — by automatically suggesting to fetch relevant images and videos that you can add to your unique articles.
And we've just made this feature even better. 😎
The details of what we've done are a bit technical and have to do with correct handling of non-Unicode data when determining the most relevant (primary) keywords of your spun articles. So we're not going to bore you with these...
But the result is, Spin Rewriter is now even more confident (and more robust) when automatically suggesting the primary keywords of your spun articles. That is, keywords that are most likely to return super-relevant royalty-free images and videos that you can embed into all of your unique articles with a single click.
This update is already live — so you can go check it out for yourself! 👍
It's time for some more good news for our fellow coders! 🤓
As you probably know, Spin Rewriter offers a way for 3rd party software products to integrate the power of ENL Semantic Spinning through our extremely capable Spin Rewriter API.
And we're always working tirelessly to make sure these integrations are an absolute breeze. It's always been one of our goals to make integrating Spin Rewriter into other products as easy as possible.
Which brings me to today's good news! 🤩
We've just unveiled our newest C# SDK library which makes it an absolute breeze to integrate Spin Rewriter into the products of any C# developers out there. And of course we've also prepared working C# code samples to make things even easier.
Developers can also easily install the Spin Rewriter API package through nuget (package installer for C#). 👍
Bottom line — if you're a fellow coder and you're looking to integrate the ENL Semantic Spinning capabilities of Spin Rewriter right into your own product(s), head over to our updated API Code Samples page where you'll find our newest C# SDK, along with PHP, Python, JavaScript and other code samples that we've prepared for you.
We can't wait to see what you create with the power of our API! 😃
It's time for yet another blog post from our incredibly well-received collection of detailed product comparisons.
(Thank you for all the wonderful feedback, btw!) 👏
For today's comparison we're asking ourselves:
"How does Spin Rewriter compare to Spinner Chief?"
After a deep-dive and many hours of thorough research, we've made it super-easy for you to compare Spin Rewriter vs. Spinner Chief: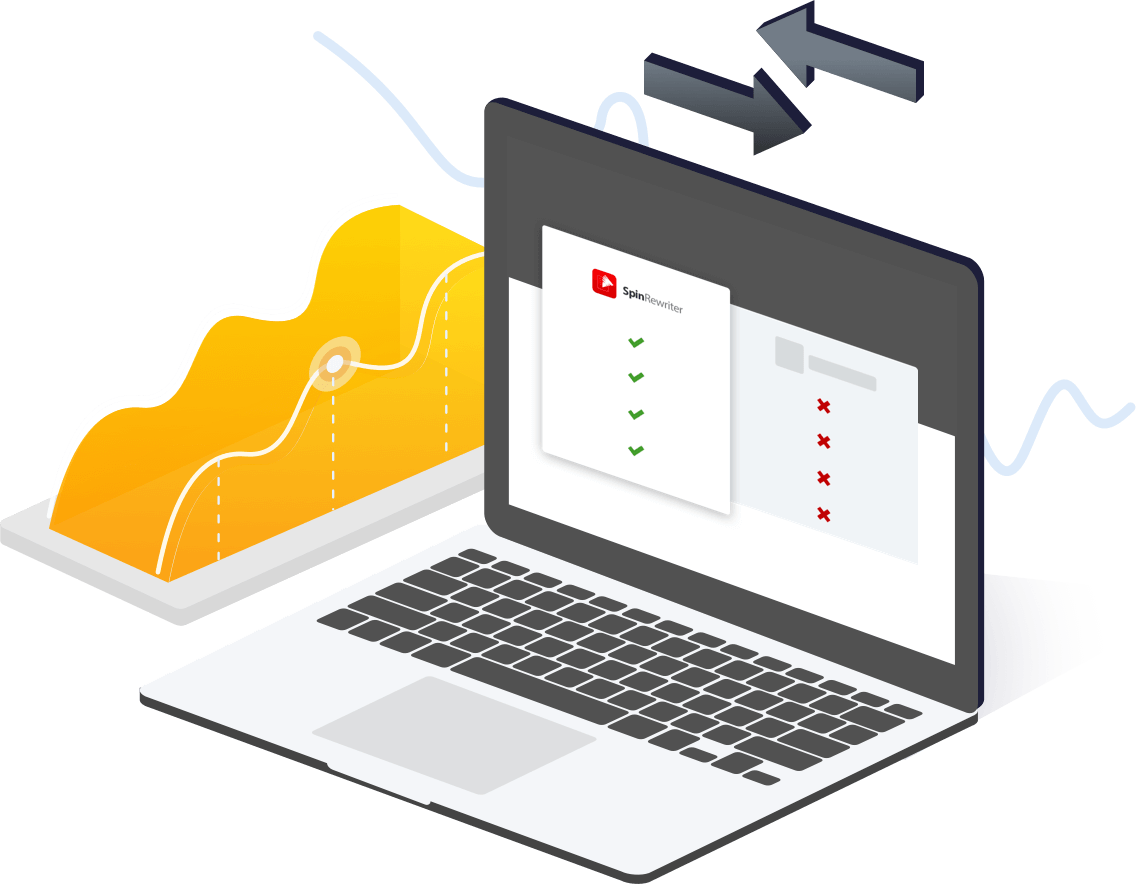 Read our detailed comparison to discover the benefits and drawbacks of each of these two popular text rewriters...
Spoiler: Spinner Chief did quite well — but you'll find out much more about it at the link above.
Enjoy this latest comparison! 👍
This morning we rolled out an update that significantly improves the user experience (UX) of various downloads all across your Spin Rewriter account.
So what do we mean by that? 🤔
Well, as you know, you have the option of downloading various things when using Spin Rewriter.
💾 For example, in Step 3 you can export and download literally hundreds (or even thousands!) of unique articles. You can download all of these unique articles either inside one big .txt file (using custom separators), or inside a .zip file that contains each individual article as a .txt file.
💾 You can also download articles (either individually or in bulk) directly from your Archive of spun articles.
💾 And of course you can also download your bonuses, and more!
Until now, when our users clicked a download link in certain browsers, a new browser tab briefly popped up on their screen before getting closed automatically a split second later, and the file being downloaded to the Downloads folder on their computer. It all worked well, but we felt that it wasn't the most polished user experience ever and that we could do better.
And I'm super happy to say that now, after this latest update, downloading files from Spin Rewriter is an absolute joy. 🤩
Now you simply click a download link — and your files will download straight into your Downloads folder while displaying a lovely progress bar, with no flashing of new browser tabs or anything like that. And on top of that, all of your downloaded files will now come with extremely friendly and descriptive filenames, for example: "2021-06-08 at 10.48.23 - unique articles"
It's »small« upgrades like this that make Spin Rewriter truly special to use — and we believe it's these updates that make the experience of using Spin Rewriter so vastly different from using most of the other products in the market.
This latest update is already live, so you can go check it out right away. 👍
Time for another update. 😃
The improvements that we rolled out this morning will make your life even easier by preventing you from ever losing any of your unsaved progress.
Some of our users like to manually tweak the actual article spintax inside Step 3 that's then used to generate hundreds of unique articles for them.
So we've made sure that when there are unsaved changes present in the article spintax in Step 3, you can no longer accidentally navigate away from Step 3 without being asked if you want to save those changes first.
This has the potential to save you a big headache in the future — and that's always a good thing. 👍
For more posts, check out the Monthly Archives.
Why are we publishing all these updates?
Our blog lets our amazing users get all the latest updates on Spin Rewriter. This way you can always try out the newest features as soon as they're available — and let us know what you think.
Let us say this again: Thank you for your feedback!