Open any month to discover 292 updates.
We've been working hard on Spin Rewriter for 9 years now, with new updates released every single month. Go check them out!
Another week, another update. 👍
We just rolled out an improved "Auto-Save" feature in Step 1, with a completely revamped change-detection logic and a new, extremely user-friendly indicator.
So when you're entering your original article into Spin Rewriter in Step 1, you don't have to worry — at all! — about losing any of your progress. Ever.
As soon as you make some changes to your original article in Step 1, our code will detect this and auto-save your progress while displaying a lovely auto-save indicator in the bottom left corner of the editing area.
This way you will never lose any your work... and you can always return to your unfinished articles at a later time if necessary.
Go give this new feature a try right now — it's fun! 😃
Today we're bringing even more good news for our fellow programmers! 🤓
You might already know that Spin Rewriter offers a very robust API in addition to our polished web interface.
Our API lets 3rd party product owners integrate Spin Rewriter's ENL Semantic Spinning technology directly into their own software products. And of course it's on us to make the Spin Rewriter API as easy to integrate as possible.
Which brings me to the latest bit of great news. 😃
We have recently rolled out a brand-new JavaScript SDK library, along with working code samples that will have all 3rd party JavaScript developers up and running in no time.
You can also install the Spin Rewriter API package through npm (package installer for JavaScript). 👍
So, if you're a developer who's looking to integrate Spin Rewriter straight into your own tools, simply hop over to our updated API Code Samples page where you'll find our newest JavaScript SDK, along with PHP, Python, C# and other working code samples that will make your integration a breeze.
We think you're going to love this latest API library. 😃
Wow, we received a lot of amazing feedback about our recent blog post where we compared Spin Rewriter to one of our competitors — you guys seemed to have loved that. ❤️
So here we go, with another comparison. This time we're asking:
"How does Spin Rewriter compare to TheBestSpinner?"
We've done our research and made it easier than ever for you to compare Spin Rewriter vs. TheBestSpinner: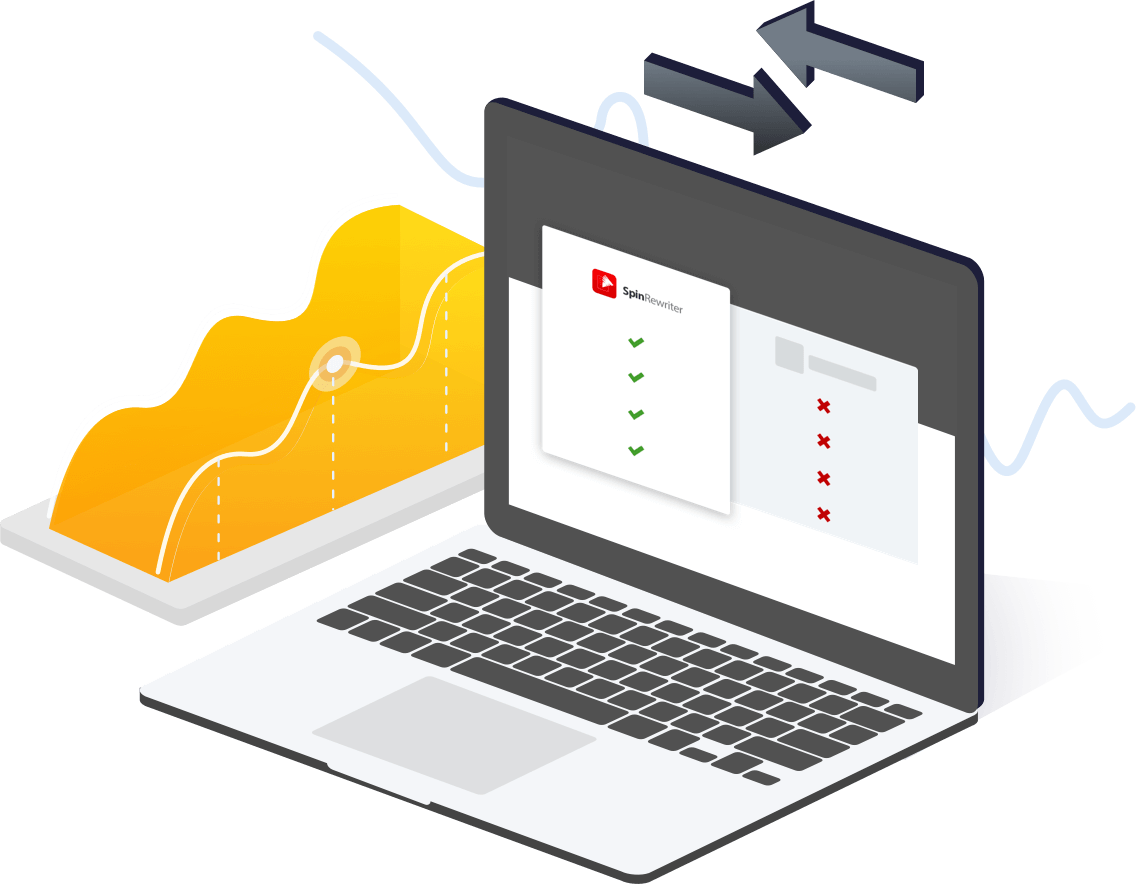 Check out our drill-down into both products here to compare the unique benefits and drawbacks of each article spinner...
You know how they say "nomen est omen" — or "the name speaks for itself." Well, despite TheBestSpinner's boastful name, we think it's best to read this detailed comparison and make an informed decision for yourself.
We loved putting this latest comparison together — enjoy! 👍
There's one particular question that we get asked quite often. It mostly comes from people who are looking for the very best article spinner in the market.
Here's the question:
"How does Spin Rewriter compare to WordAi?"
It's definitely a fair question — and one that deserves a well thought-out, detailed answer. So that's exactly what we did.
We've made it super easy for you to compare Spin Rewriter vs. WordAi: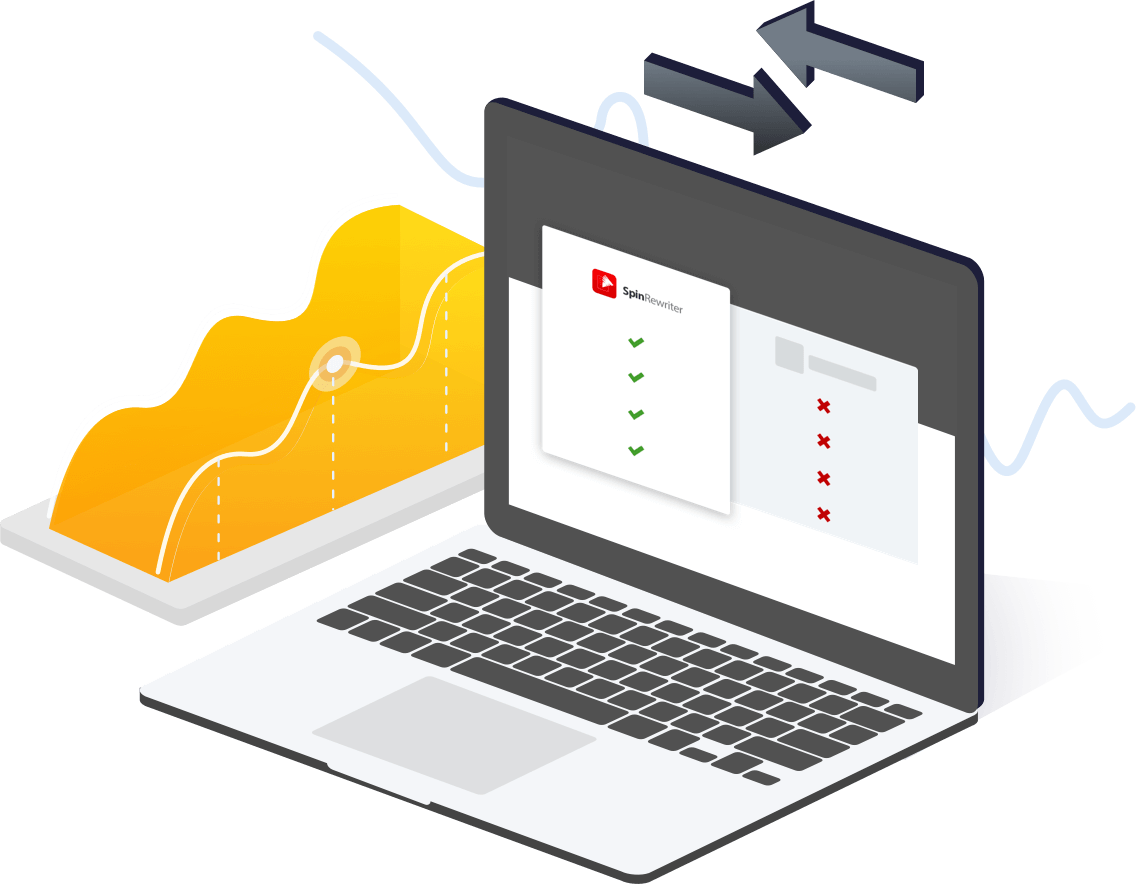 Our comparison gives you a detailed look at how Spin Rewriter and WordAi compare, and lets you discover the unique benefits of each spinner...
In our comparison, you'll see how Spin Rewriter and WordAi compare in terms of:
✅ yearly pricing
✅ lifetime pricing
✅ free trial availability
✅ spinning features
✅ user experience
✅ customer support
and more...
And of course — if you still have any questions whatsoever, simply get in touch with us and we will gladly help you pick the best option for you. 👍
Enjoy the comparison! 😃
Earlier this week we heard from one of our wonderful users, Mr Steve, who told us the following:
While he absolutely loves Spin Rewriter (thank you!), he does have one major gripe with it when it comes to manual spinning on sentence- and paragraph-level.
As many of you probably know, Spin Rewriter can help you manually add alternative sentences and alternative paragraphs to your original article in Step 1, through a friendly pop-up interface.
But as Mr Steve mentioned, this user interface had an annoying flaw. When he tried to manually write alternative variations for longer paragraphs, those original paragraphs weren't being shown in their entirety while he was writing the new, alternative ones. Instead, the longer original paragraphs were being truncated after a certain length, making the process needlessly tedious.
We agreed with Mr Steve immediately — and sprung into action! 😃
And I'm super happy to say — we have now already resolved this issue, and made the manual rewriting interface an absolute joy to use. 👌
When doing manual sentence- and paragraph-level rewrites in Step 1, Spin Rewriter now displays the entire original text in its friendly pop-up window, instead of truncating it into a single line of text that fades out.
This update will make it much easier for our users to come up with good alternatives for longer paragraphs. And you can go check it out now. 😃
Let's talk about yet another great feature we added recently. 🤩
Once you get towards the end of the process of spinning your article and you enter Step 3, it's time to generate some unique variations of your original article.
And this is where our newest magic happens. 🎩
We've added an extremely powerful switch between two separate modes ("HTML" and "Visual") of your process of generating unique articles.
This newest addition makes it sooo much easier to preview your generated unique articles exactly as they would appear when published on a website. When using the "Visual" mode, each of the unique articles you generate will include all of the relevant images and videos right inside the text, and this relevant media will be shown either in between paragraphs or with the text wrapped around them.
What's more, the "Visual" mode will also correctly display all bold and/or italicized fonts, larger headings, unordered lists, ordered lists, and so on.
And on the other hand, switching to the "HTML" mode will give you complete and utter control over your generated unique articles in their raw form. Our new "HTML" mode lets you see exactly how your articles are constructed under-the-hood, and from there you can tweak every little detail manually.
This is a seriously powerful update — and you can go check it out right away. It's already live. 😃 👍
Today we've got some great news for our fellow developers! 🤓
As you probably know, Spin Rewriter comes with a powerful API. This lets other developers integrate the power of Spin Rewriter's ENL Semantic Spinning straight into their own software products.
Of course we want as many 3rd party developers to integrate Spin Rewriter API into their products as possible, for a multitude of reasons:
With every integration, users of Spin Rewriter gain awesome new features inside those 3rd party SEO software products.
With every integration, users of 3rd party products learn about the power of Spin Rewriter and what we can do for them.
With every integration, the combination of Spin Rewriter and that 3rd party software product makes for a more powerful tool, with better results for our awesome users.
Now, the biggest challenge here (from a developer standpoint) is this:
Spin Rewriter API needs to be extremely easy to integrate.
Luckily this is something that Spin Rewriter has always been quite famous for. 😃
In fact, we're promising 3rd party developers that they will have their Spin Rewriter API integration up and running within 5 minutes — with the help of our awesome code samples and polished SDK libraries.
The software industry is always evolving, though — which means we need to actively work on keeping our code samples and SDK libraries up to date.
And for this reason, we have just rolled out a brand-new Python 3 SDK library, along with working code samples that will have you up and running in no time.
You can also install this package through pip (package installer for Python). 👍
So, if you're a developer — hop over to our updated API Code Samples page right now, and enjoy our brand-new Python 3 SDK library and code samples.
And if you're a user of Spin Rewriter — just wait for a while to reap the benefits of hard-working developers who will integrate Spin Rewriter into even more 3rd party SEO software products. This is an absolute win-win either way! 😃
Another month — another new feature. 😃
You can now add a profile picture to your Spin Rewriter account.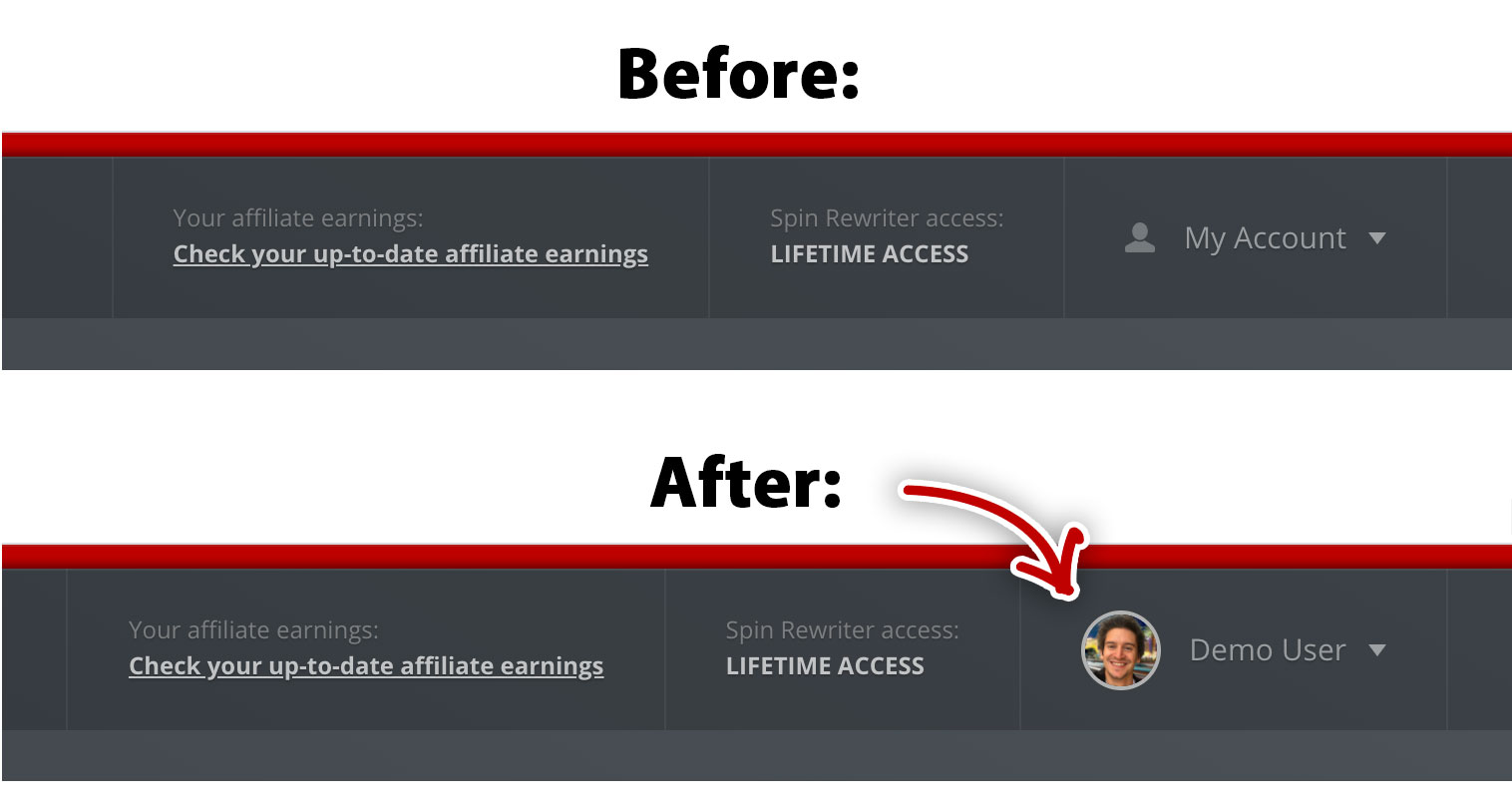 See how your user account menu used to simply say "My Account"? While that's definitely a decent solution, it's not quite perfect — and here at Spin Rewriter we're always striving to deliver that perfect experience to you.
Now, with this latest update, this menu will show your full name — if we have it on file, of course. And to make your Spin Rewriter account feel even friendlier, this menu can now also show your custom profile picture instead of the gray icon.
This isn't just a cosmetic change — it also brings with it another big benefit. If you're often switching between multiple Spin Rewriter accounts, you can now immediately see exactly which account you're currently logged into.
This feature is already "live", so feel free to upload your profile picture now! 😃 👍
Today we're bringing you another detailed video tutorial! 👌
This tutorial explains how you can use Spin Rewriter to rewrite multiple articles at once (which is also called "bulk spinning"). This way you can further improve your productivity when generating unique content.
You'll discover how you can enter multiple articles at once by composing them inside multiple text input fields, how you can upload multiple articles at once as separate text documents (.txt files) and how you can upload multiple articles at once in a single archive (.zip file).
You'll see how to fine-tune the ENL Semantic Spinning preferences that will be applied to all of your bulk articles as they go through the spinning process, and how your finalized (spun) articles will automatically appear inside your Archive.
Here's how to spin multiple articles at once (bulk rewriting):
Watch this video and you'll take your productivity when it comes to generating high-quality unique content to the next level.
Also, our full collection of video tutorials is available here... Enjoy!
Phew... 2020 is finally over.
Here's to a much, much better 2021 and beyond! 🥂
Looking back at this strange year behind us through a more distanced lens, it wasn't ALL bad, though.
In fact, looking at Spin Rewriter, 2020 was actually a really successful year for us.
We launched the latest-and-greatest version 11 on 11/11 which brought our amazing users a huge list of incredible new goodies.
This latest version 11 of Spin Rewriter turned out to be a MASSIVE success. Our users (both long-time customers and brand-new ones) seem to really love this newest version and are sending us incredible feedback to this day.
I myself honestly couldn't be happier to see that. Happy customers is what we're all about. It's why we are investing all this effort into Spin Rewriter. And seeing that people actually love using Spin Rewriter is an absolute dream-come-true for our entire team.
Hopefully you were able to make the most out of 2020 as well.
And I hope that you're entering the new year with clear goals, strong focus and pure excitement about the opportunities and successes that lie ahead.
Here's to all of YOUR dreams coming true in the new year,
Aaron — and the entire INFINET LLC team 😃
For more posts, check out the Monthly Archives.
Why are we publishing all these updates?
Our blog lets our amazing users get all the latest updates on Spin Rewriter. This way you can always try out the newest features as soon as they're available — and let us know what you think.
Let us say this again: Thank you for your feedback!