Open any month to discover 292 updates.
We've been working hard on Spin Rewriter for 9 years now, with new updates released every single month. Go check them out!
Today we've got some great news for our fellow developers! 🤓
As you probably know, Spin Rewriter comes with a powerful API. This lets other developers integrate the power of Spin Rewriter's ENL Semantic Spinning straight into their own software products.
Of course we want as many 3rd party developers to integrate Spin Rewriter API into their products as possible, for a multitude of reasons:
With every integration, users of Spin Rewriter gain awesome new features inside those 3rd party SEO software products.
With every integration, users of 3rd party products learn about the power of Spin Rewriter and what we can do for them.
With every integration, the combination of Spin Rewriter and that 3rd party software product makes for a more powerful tool, with better results for our awesome users.
Now, the biggest challenge here (from a developer standpoint) is this:
Spin Rewriter API needs to be extremely easy to integrate.
Luckily this is something that Spin Rewriter has always been quite famous for. 😃
In fact, we're promising 3rd party developers that they will have their Spin Rewriter API integration up and running within 5 minutes — with the help of our awesome code samples and polished SDK libraries.
The software industry is always evolving, though — which means we need to actively work on keeping our code samples and SDK libraries up to date.
And for this reason, we have just rolled out a brand-new Python 3 SDK library, along with working code samples that will have you up and running in no time.
You can also install this package through pip (package installer for Python). 👍
So, if you're a developer — hop over to our updated API Code Samples page right now, and enjoy our brand-new Python 3 SDK library and code samples.
And if you're a user of Spin Rewriter — just wait for a while to reap the benefits of hard-working developers who will integrate Spin Rewriter into even more 3rd party SEO software products. This is an absolute win-win either way! 😃
Another month — another new feature. 😃
You can now add a profile picture to your Spin Rewriter account.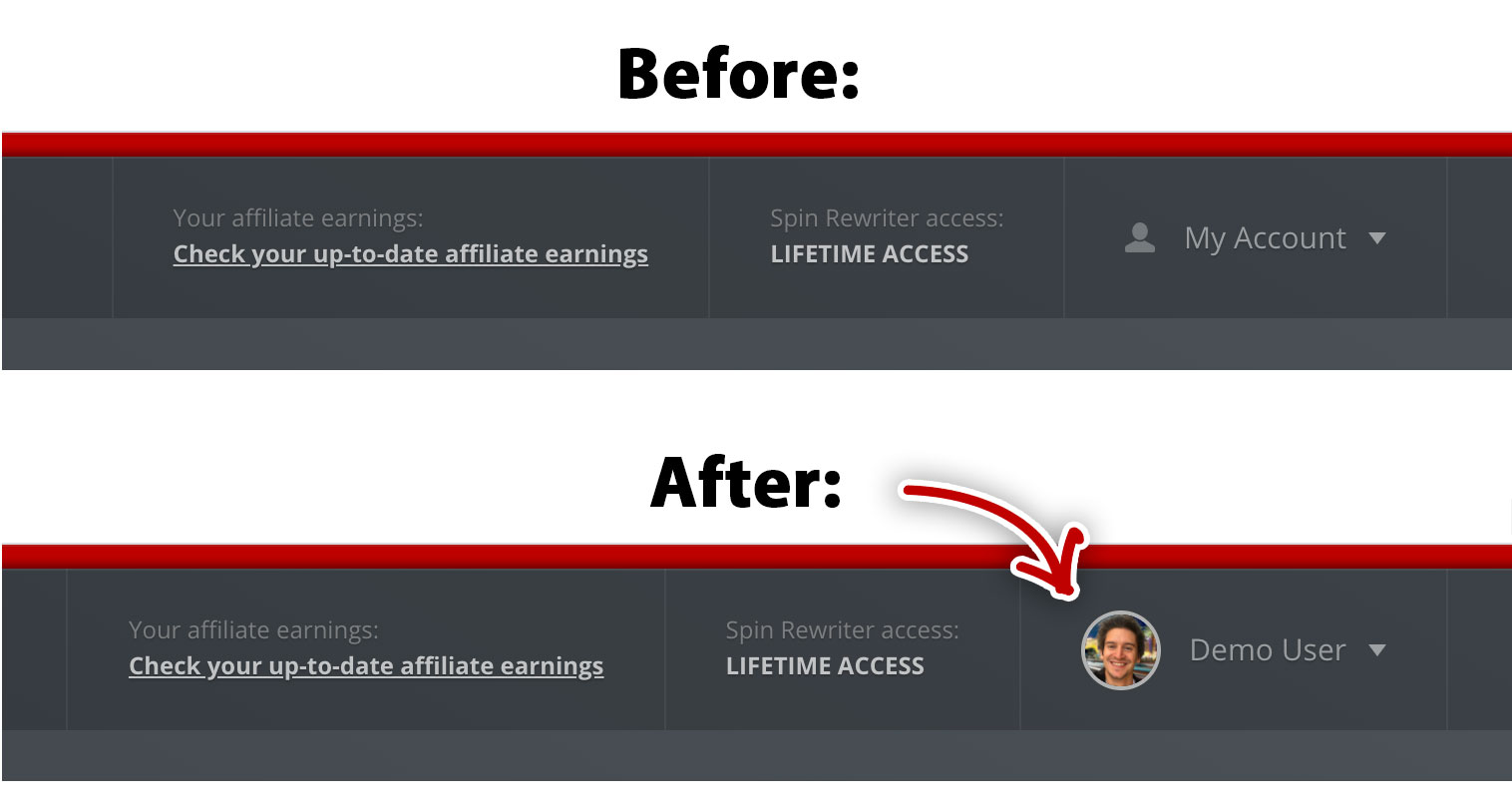 See how your user account menu used to simply say "My Account"? While that's definitely a decent solution, it's not quite perfect — and here at Spin Rewriter we're always striving to deliver that perfect experience to you.
Now, with this latest update, this menu will show your full name — if we have it on file, of course. And to make your Spin Rewriter account feel even friendlier, this menu can now also show your custom profile picture instead of the gray icon.
This isn't just a cosmetic change — it also brings with it another big benefit. If you're often switching between multiple Spin Rewriter accounts, you can now immediately see exactly which account you're currently logged into.
This feature is already "live", so feel free to upload your profile picture now! 😃 👍
Today we're bringing you another detailed video tutorial! 👌
This tutorial explains how you can use Spin Rewriter to rewrite multiple articles at once (which is also called "bulk spinning"). This way you can further improve your productivity when generating unique content.
You'll discover how you can enter multiple articles at once by composing them inside multiple text input fields, how you can upload multiple articles at once as separate text documents (.txt files) and how you can upload multiple articles at once in a single archive (.zip file).
You'll see how to fine-tune the ENL Semantic Spinning preferences that will be applied to all of your bulk articles as they go through the spinning process, and how your finalized (spun) articles will automatically appear inside your Archive.
Here's how to spin multiple articles at once (bulk rewriting):
Watch this video and you'll take your productivity when it comes to generating high-quality unique content to the next level.
Also, our full collection of video tutorials is available here... Enjoy!
Phew... 2020 is finally over.
Here's to a much, much better 2021 and beyond! 🥂
Looking back at this strange year behind us through a more distanced lens, it wasn't ALL bad, though.
In fact, looking at Spin Rewriter, 2020 was actually a really successful year for us.
We launched the latest-and-greatest version 11 on 11/11 which brought our amazing users a huge list of incredible new goodies.
This latest version 11 of Spin Rewriter turned out to be a MASSIVE success. Our users (both long-time customers and brand-new ones) seem to really love this newest version and are sending us incredible feedback to this day.
I myself honestly couldn't be happier to see that. Happy customers is what we're all about. It's why we are investing all this effort into Spin Rewriter. And seeing that people actually love using Spin Rewriter is an absolute dream-come-true for our entire team.
Hopefully you were able to make the most out of 2020 as well.
And I hope that you're entering the new year with clear goals, strong focus and pure excitement about the opportunities and successes that lie ahead.
Here's to all of YOUR dreams coming true in the new year,
Aaron — and the entire INFINET LLC team 😃
As this weird and sometimes painful year draws to a close, it seems like the perfect time to look ahead with new optimism for what's ahead.
And what better time to do this than the holiday season? 🎄
Whether you celebrate Christmas or not, I hope you're going to find a lot of joy and happiness in these remaining days of a very strange year that we'll all remember for the rest of our lives.
I hope you've already started to unwind, that the hustle and bustle is starting to slow down a bit, and that you get to spend the holidays in good health and surrounded by your family and friends.
And here's to hoping that we all enter 2021 with recharged batteries so that we can make the most of what is hopefully a much, much, MUCH better year!
Happy Holidays to everyone from our entire team! 🎅
Another day, another awesome video tutorial! 📹
If you ever wondered about the best possible approach to spinning articles with Spin Rewriter, then today's video tutorial is definitely for you.
This tutorial will take you across the entire process of spinning an article — from entering the article in Step 1, selecting synonyms for words and phrases (either manually or through our famous One Click Rewrite option) in Step 2, to enriching and exporting hundreds of unique articles in Step 3.
How to spin an article with Spin Rewriter from start to finish:
Watch this video and you'll discover how easy it is to put the incredible power of ENL Semantic Spinning to good use.
You can also check out the entire collection of video tutorials here... Enjoy!
Our entire team is absolutely over the moon! 🌔
As you know, we rolled out the brand-new Spin Rewriter 11 two weeks ago on November 11th...
...and we are absolutely blown away by the FEEDBACK we've been receiving about the new upgrades and features inside Spin Rewriter 11!
Every single day it's an absolute dream-come-true to go over the feedback our awesome customers are sending in. Just reading about how much they love this brand-new version of Spin Rewriter absolutely makes my day.
And not only that...
Remember my blog post from October 6th? In that blog post, I mentioned how some article spinner review websites were still putting Spin Rewriter at number 2 on their list of best article rewriters.
Well, I guess reviewers took notice of all the upgrades and improvements this brand-new version of Spin Rewriter has brough to our users! 😃
The very same article spinner review website now puts as firmly at #1 position... as do a number of other article spinner review websites, like these:
All in all, we are BEYOND happy with how Spin Rewriter 11 has been received by our users so far, and will continue working crazy hard — for you guys! 👍
We celebrated a BIG MOMENT earlier today!
At 9 AM Pacific, we rolled out the brand new Spin Rewriter 11!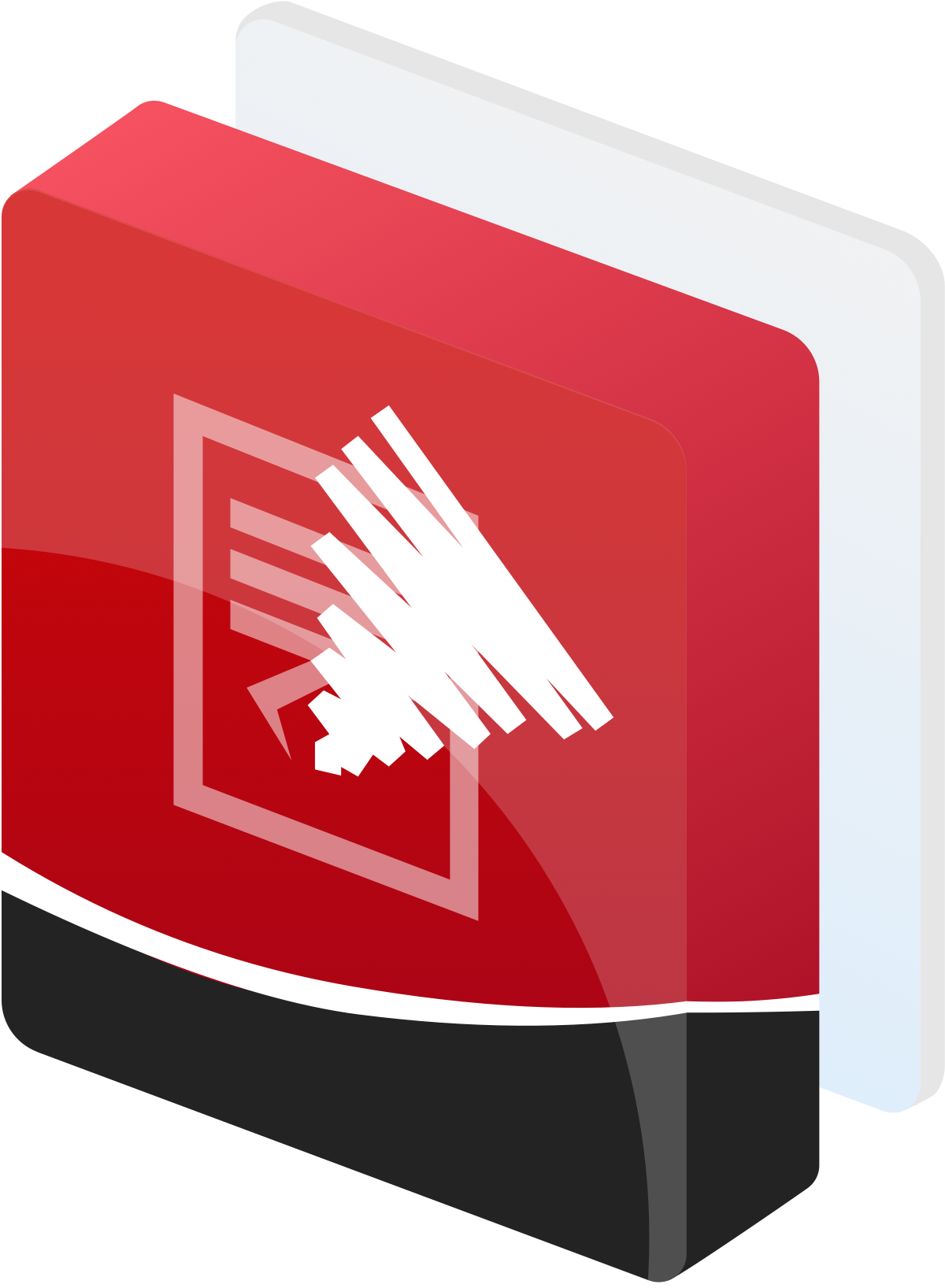 We've managed to pack a TON of goodies into this year's brand new version 11 for all of our amazing users. Here's just 11 of them:
✅ Goodie #1: We delivered another huge break-through with our ENL Semantic Spinning technology. Spin Rewriter 11 can now easily convert between the active and passive voice of sentences, among other things.
100% uniqueness & readability of your generated articles guaranteed!
✅ Goodie #2: We've done another massive manual review (roughly 650 hours invested altogether) of Spin Rewriter's synonym database to further refine the suggestions our algorithm makes.
✅ Goodie #3: We've been doing extensive in-person user testing for the entire past year, with real people using Spin Rewriter for the first time in front of our UX team. This allowed us to further improve user experience (UX) and ease-of-use. We are SUPER excited about these improvements!
✅ Goodie #4: We've rolled out a brand-new on-boarding process that guides our newest users by the hand, all the way to their first finished high-quality spun article. This way everyone can succeed.
✅ Goodie #5: We've prepared an entire BRAND-NEW collection of more than 12 detailed tutorial videos. These polished tutorial videos explain every single feature of Spin Rewriter and will turn you into a content-generating ninja.
✅ Goodie #6: Our WordPress Plugin now lets you exclude entire categories of posts from being automatically spun and re-published once they reach a certain age. Extra control!
✅ Goodie #7: We've expanded Spin Rewriter's integration with free stock photo & video collections even further. Spin Rewriter now even offers an intelligent 1-click option that enriches your spun articles with the most relevant media for you.
✅ Goodie #8: In Step 3, you can now switch between "Visual" and "HTML" modes, letting you see the embedded relevant videos and images exactly as they will appear in your article once you publish it on your websites.
✅ Goodie #9: When inserting relevant videos and images, you now have full control over how they appear — either in-between paragraphs or with text flowing around them. Of course the exact videos and images that are picked, and their position inside the article can be randomized in each generated unique article.
✅ Goodie #10: Also in Step 3, you can now easily compare your generated unique articles to the article you started with. Any duplicated phrases from your original article that are still present in your new article will be highlighted — allowing you to apply some final edits to your generated article for that FULL 100% uniquness.
✅ Goodie #11: All exports and downloads have been revamped — they are now faster and come with much friendlier filenames, for super easy archiving on your computer.
And much, much more...
Simply log into your Spin Rewriter account to see for yourself! 😃
And if you don't have access just yet...
Go here to get access to the brand-new Spin Rewriter 11 today...
Things are getting more and more exciting around here!
🎉 Just 8 short days to go! 🎉
Spin Rewriter 11 launches on November 11th...
...and here's a SNEAK PEEK of the brand-new version 11: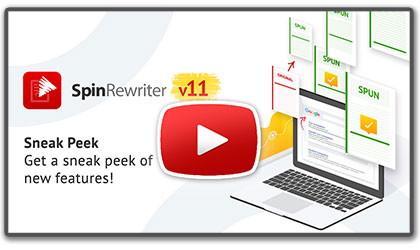 We literally couldn't be more excited about giving you a glimpse of the upcoming goodies... and this is just a small, tiny part of everything that's coming!
So, watch the video above — and I better get back to work, because these last couple of days before our big launches are always very, very busy! 😃
Cheers!
For more posts, check out the Monthly Archives.
Why are we publishing all these updates?
Our blog lets our amazing users know what's happening here at Spin Rewriter at all times, so they can try out the newest features as soon as they're available — and let us know what you think.
Let us say this again: Thank you for your feedback!