Things are getting more and more exciting around here!
🎉 Just 8 short days to go! 🎉
Spin Rewriter 11 launches on November 11th...
...and here's a SNEAK PEEK of the brand-new version 11: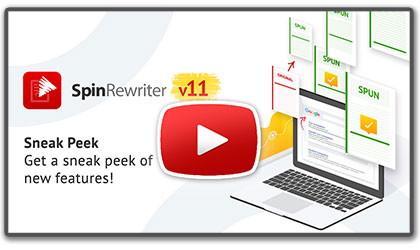 We literally couldn't be more excited about giving you a glimpse of the upcoming goodies... and this is just a small, tiny part of everything that's coming!
So, watch the video above — and I better get back to work, because these last couple of days before our big launches are always very, very busy! 😃
Cheers!
Published on: November 3rd, 2020
← Previous: Exports made even easier
→ Next: New tutorial videos are here!