Affiliate Program
Since you are reading this page, you probably already know very well what Spin Rewriter has to offer.
If you don't, check out this video first:
How Can I
Promote

Spin Rewriter?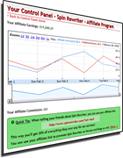 We're here to help you out in any way you need. Plus, we've made it really easy to promote Spin Rewriter to your friends and colleagues.
If you know someone who needs an incredibly powerful article rewriter, simply register and send that person our way with a special link that you can find inside your Control Panel.
When promoting Spin Rewriter, feel absolutely free to use all images and videos that are available on this website. To help you get started we've made a selection of videos and images below. The YouTube video from the home page has been very effective so far!
Spin Rewriter
Sells Like Crazy

!

(Amazing EPC Figures)

Ever since we first launched Spin Rewriter, our affiliates have been reporting unbelievable figures.

The EPC (Earnings Per Click) figure tells you how much you earn for every visitor you send us, on average.

Our top 10 affiliates' EPCs are all in the $1.40—$3.20 range.

During launches, we've delivered EPCs of $8.37, $5.16, $4.41 and so on. And we can prove it!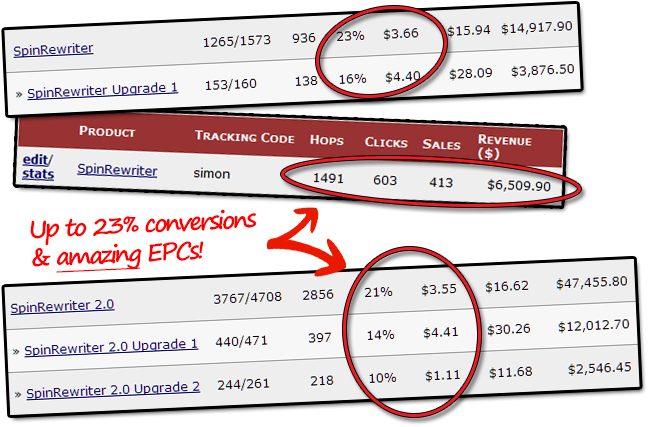 We've also conducted over 20 A/B split tests to make sure our salespage converts amazingly well!
Other
Promotional Images

and

Animated Banners

:

As mentioned, feel free to use all images and videos available on this website when promoting Spin Rewriter.

Spin Rewriter logos: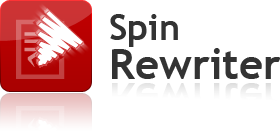 Spin Rewriter animated banners:
160x600 px:

300x250 px: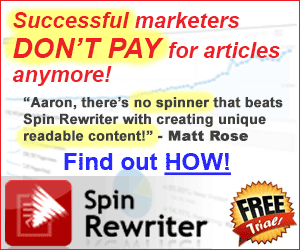 468x60 px:

468x60 px:

728x90 px:

We've Got
Swipe Emails

For You As Well:

If you ever need promotional copy to use in your emails, newsletters, blog posts, or product reviews, simply drop us an email and we'll help you out with prepared samples.

Promo Emails for Solo Ads (Single Mailing):

Promo Emails for Solo Ads (Series of 3 Mailings, Even More Effective):

Keep in mind: If you have an exceptionally large and responsive mailing list or you run a popular website in the Internet Marketing / Article Marketing / Link Building / SEO niche, feel free to drop us an email and we can talk about setting your affiliate commission to a higher percentage.
Why

Would I Promote Spin Rewriter?


(Other Than The Fact It's Amazing ...)

You can make serious money with our services. And don't just take our word for it ... ;)

Spin Rewriter is the best selling product in this multi-million dollar market! Proof: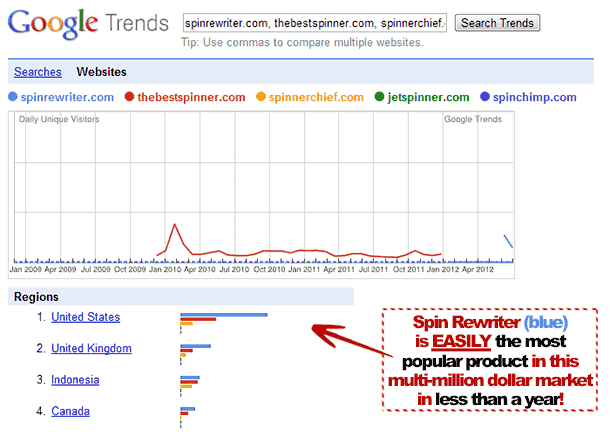 Ready for Some Quick
Math

?

If your friends create an account with us, we'll pay you 30% of everything they ever pay for our services.

If they purchase $700 worth of Spin Rewriter subscriptions, you make $210 — and when you say so, we transfer those $210 directly to your PayPal account.

QUICK MATH: If you have a mailing list of our potential customers, you could quickly send out a recommendation of our services and have 100 of your subscribers become our registered members. If each of them pays (on average) $27 for our services each month, you are making $810 every month. Hands-free!

SHOCKER: YES, you will earn 30% of what your referred users pay for our services FOREVER.

We don't pay you just the first time someone makes a payment — we pay you every single time!

This is a very real, very realistic (and increasingly rare!) Income-on-Auto-Pilot opportunity.
What

Should You Do

Now

?

It's simple and it takes less than a minute.

Register or log in to get your affiliate link. And watch the money roll in. ;)

Thank you for being our Affiliate Partner!

- Aaron Sustar